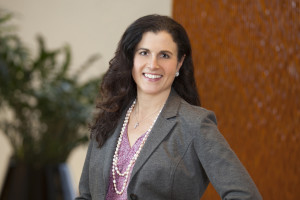 Here at Executive Elements, we like to feature fantastic women we think you should know. Some of these women are clients, some are friends, some are women we've only just met. But they all have this in common: they are dynamic, interesting women who have agreed to share with us their insights and secrets to success.
My Name:
Susan DiMickele
My Current Job/Company:
Partner and Practice Leader, Squire Patton Boggs
My Birthday:
1/19/70
My Work:
I co-lead a global practice group comprising of more than 125 lawyers in 13 countries; primarily responsible for US operations. I work with a very dedicated team and love promoting and retaining talented women and men.
My Passion:
Leading others to their full potential in my home, work, and community.
My Family:
Doug (High School Sweetheart, husband of 23 years), Nick ("know it all" teenager- 14), Anna (sweet middle child – 12) and Abby (my "baby" – 9).
My Hero or Heroes:
Wonder Woman was literally my hero as a child. Now that I'm older as wiser, my hero is definitely my mother (81, newly widowed, still does aerobics, Pilates, and swimming three days a week).
My Escape:
Pandora and a bubble bath.
My Pet Peeve:
People who get bored with life.
My Indulgence:
Dark chocolate, red wine, and coffee.
My Roots:
Work hard. Don't complain. Walk by faith. Tomorrow will be even better.
My Future:
The sky is the limit.
My Favorite Quote:
Too many to count! This verse has become very meaningful to me this year: "Trust in the Lord with all your heart and lean not on your own understanding. In all your ways acknowledge him and he will make your paths straight." (Proverbs 3: 5-6)
My Accessory:
My iPhone.
My advice to Young Women:
Don't quit when it gets hard. Push through the challenges and don't give up.
How I Balance it All:
One day at a time. Breathe. Pray. Admit your mistakes and move on. Perfection is the enemy of good!