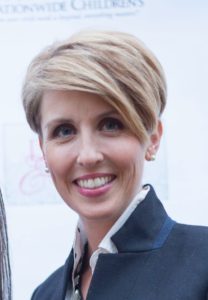 Here at Executive Elements, we like to feature fantastic women we think you should know. Some of these women are clients, some are friends, some are women we've only just met. But they all have this in common: they are dynamic, interesting women who have agreed to share with us their insights and secrets to success.
My Name:
Carol Richardson
My Current Job/Company:
Development Officer, Make-A-Wish, Ohio, Kentucky, Indiana
My Birthday:
11-5-76
My Work:
I share the power of a wish with our community to spread awareness to help children who are dealing with a life threatening illness.
My Passion:
To be a great mother and wife.
My Family:
My husband Craig, Daughter–Madeline (12), Daughter–Elaina (9).
My Hero or Heroes:
My parents. They have supported and encouraged me throughout my life. They are always by my side when life gets challenging.
My Escape:
My covered porch with a cup of joe and a blanket on a crisp morning.
My Pet Peeve:
Impolite drivers.
My Indulgence:
Dark Chocolate and red wine.
My Roots:
Honest, loyal, usually smiling, happiest with my family or in my garden.
My Future:
Full of love and happiness.
 
My Favorite Quote:
"Let your faith be bigger than your fears."
My Accessory:
A tennis racquet.
My advice to Young Women:
The most rewarding jobs don't always come with a paycheck, but they are usually the most important.
How I Balance it All:
Some days are more balanced than others. I couldn't do what I do without my amazing husband, Craig supporting and encouraging me!