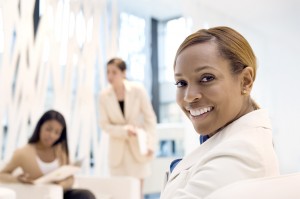 by Chasity Kuttrus
Nobody likes negativity. It creeps into the work place, poisons teams and exhausts even the most patient of colleagues, bosses and employees. On the flip side, positive people are nice to be around, they raise spirits and morale and make more of an impact on the work place environment than you may realize.
It's not easy to be positive all the time. But with a little self-awareness, you can face the day with an upbeat, "can do" attitude.
Here are 7 ways to leverage your "Inner Positive Energy" every single day….
1. Make it your business to know your colleagues' strengths. By taking a minute to pinpoint the talents of your teammates, you automatically develop a more positive attitude towards them. Plus, this makes it easier for you to understand how to best work with them for best results. And, when it's natural and appropriate, give your colleagues props for their talents. They'll remember it.
2. Practice gratitude. Spending time counting your blessings is a focused exercise in positive thinking.
3. Smile. You'll be amazed what this can do for yourself and those around you. And, it's super easy.
4. Be honest and true.Too much CYA'ing is stressful. Stress leads to negative emotions. Be upfront, forthcoming and honest in all you do and you'll steer clear of this trap.
5. Know what you bring to the table. Every now and then stop a moment and consider your own strengths and talents. We don't do this enough for ourselves. If you feel positive about yourself, your attitude spills over into all areas of your life.
6. Avoid gossip. You will never, ever be or feel positive after engaging in petty talk about other colleagues.
7. Work on continuous improvement. Learning new things, practicing new habits and taking action helps you avoid feeling stagnant. Being stagnant breeds negativity.
Just like negativity has a way of snowballing, positive people influence those around them. Develop a positive attitude and then keep an eye on your colleagues….you might just inspire them be more positive too!