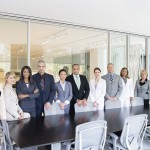 If you take a look at both existing and emerging leaders in organizations, you'll find that most of them are active in the community. They serve on boards, they volunteer with non profits, and they initiate community action in a number of other ways.
Volunteer work offers benefits at every stage of one's career. Business leaders gain exposure and experience by working with different types of teams and organizations. Emerging leaders can apply the things they've learned volunteering as they rise through the ranks. In fact, volunteer work benefits anyone at any level of the organization and the organization itself – from better engaged employees to retention to positive PR in the community.
Here's one article in a terrific series on the Business Case for Employee Volunteering. I think you'll find the entire series enlightening.
I'm interested in hearing about your employee volunteer programs, particularly how they help your leaders become better and stronger assets to your organization. Leave a comment below and share!