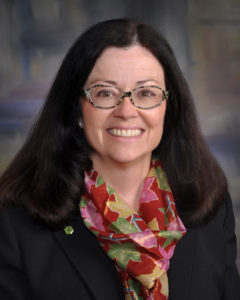 Here at Executive Elements, we like to feature fantastic women we think you should know. Some of these women are clients, some are friends, some are women we've only just met. But they all have this in common: they are dynamic, interesting women who have agreed to share with us their insights and secrets to success.
My Current Job/Company:
Director of Retail Operations, Huntington Bank

My Work:
I work with a team that supports bank branch operations – how we service customers and open accounts while meeting various regulatory and risk objectives.
My Passion:
My faith, my family, my community.
My Family:
Dennis – amazing husband, Andrew – son and sunshine – a man with a very positive outlook on life, Emily – inspirational daughter who is married and has our two delightful grandchildren.
My Hero or Heroes:
Daughter Emily – who hasn't met a challenge yet that she cannot attain, teaches in an elementary level gifted and talented program, and is a terrific mother.
My Escape:
Devil's Lake, Manitou Beach, Michigan – spring-fed freshwater lake. Sunshine, boating, cross country skiing and a fire…aaahhhh.
My Pet Peeve:
Driving in traffic with drivers going slow in the left lane.
My Indulgence:
Red wine.
My Roots:
My parents emigrated from Canada, my grandparents on my Dad's side emigrated from Scotland. My mother's father was a school principal and we've always been focused on working hard and valuing education.
My Future:
Enjoying my grandchildren and travel with my adventurous husband..
My Favorite Quote:
"Assume the Best" – Anonymous
My Accessory:
My FitBit.
My advice to Young Women:
Learn to laugh at and with yourself. And hire someone to help with the house cleaning.
How I Balance it All:
Prayer, grace and recognizing that I need the help and love of family, coworkers and friends.