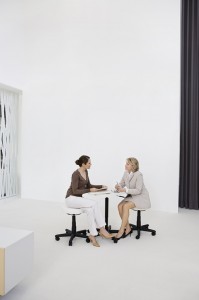 As you manage or coach your best and brightest, make sure to help them connect with different types of people who can help them throughout their careers: sponsors and mentors.
What is the difference? A mentor is someone who has experience with the company and can offer career strategies and day-to-day advice. This is someone trustworthy who will share information, answer questions, offer guidance, give the inside "scoop" and help their mentee avoid political missteps.
Sponsors, on the other hand, do what the word says. They "sponsor" their protegees. This means that the sponsor looks out for their protegee, will likely put in a good word for her when an opportunity arises that the protegee may not know about, inform others about this emerging leader's talents and "sell" her abilities to others in the organization.
Every rising star can benefit from having both of these types of people on their "team." And, you as their manager can benefit as well because the more people who help develop your emerging leader, the more support she will have as she rises through the ranks of the organization.
Do you have a system in place to help your emerging leaders tap into the wisdom and guidance of a mentor or sponsor?