Here at Executive Elements, we like to feature fantastic women we think you should know. Some of these women are clients, some are friends, some are women we've only just met. But they all have this in common: they are dynamic, interesting gals who have agreed to share with us their insights and secrets to success.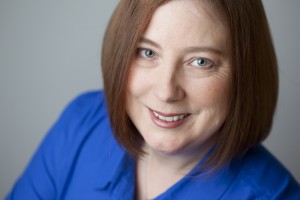 Alison Barret
My Current Job/Company:
Executive Director, Thurber House
My Birthdate:
03.04.1965 March Fourth! I like to use my birth date as a challenge to my friends to March "Forth" into the community and serve.
My Work:
Helping to lead and promote an amazing Columbus treasure — Thurber House, a nonprofit literary center based in the family home of author and New Yorker cartoonist James Thurber. What could be better than working in a place where its very foundation is rooted in humor, writing and storytelling?
My Passion:
Connecting people to each other, to charitable causes and to all that that Columbus has to offer. Columbus is a stellar city!
My Family:
I am single but far from solo. I am the youngest of six kids, proud aunt to 12 and great-aunt to 5 (and one on the way). And I have a very supporting circle of Columbus friends that I consider family.
My Heroes:
My mom, who has endured tremendous health issues, great pain and limitations for the majority of her adult life — and yet she is grateful, compassionate and has a wicked wit and a ready laugh. Another would be my friends, Jerry & MJ. They both taught me about courage, dignity, humor and true, abiding love.
My Escape:
My family cabin in the middle of the Pennsylvania woods. Cool green trees, roaring bonfire and my extended family telling well-worn, giggle-inducing, sometimes irreverent stories.
My Pet Peeve:
Whining. You woke up today, right? Move on. And to break my own no-whining rule, I hate when people fail to flush those paper toilet seat covers. Think about the hypocrisy.
My Indulgence:
Reality TV on occasion, I can't lie. And anything potato.
My Roots:
Small town girl that grew up in an era when you truly were raised by the village. I still stop in my tracks if Mrs. McCambridge yells my name….and I'm still very close with dozens of my grade school friends.
My Future:
Exciting, promising, full of new people to meet, lessons to learn and stories to discover.
My Quote on Life:
"You only live once, but if you do it right, once is enough." (Mae West)
My Accessory:
Inexpensive, quirky rings. People are always keen to check out what colorful bauble I am wearing. I have an old printer's box on my wall, filled with dozens of rings. And the happiest part of my day is when I peruse my collection in the morning and select the day's shiny ring before I walk out the door.
My Advice to Young Women:
Stay curious; there is always more to learn. Keep your promises & use words carefully. And be authentic: a $1,500 outfit can never mask a fifty-cent soul.
How I Balance it All:
Balance Schmalance. I have perspective. My life is much less hectic than so many others, especially my mom-friends. Yet, busier than your average bear, as I attend charitable and arts events, have work meetings or connect with friends practically every night of the week. The plates I AM able to keep spinning are colorful. And any plates that do drop make this melodic tinkling sound.