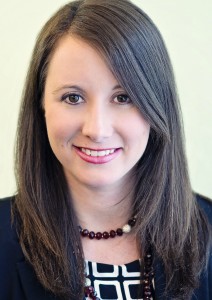 Here at Executive Elements, we like to introduce you to fantastic women we think you should know. Some of these women are clients, some are friends, some are women we've only just met. But they all have this in common: they are dynamic, interesting people who have agreed to share with us their insights and secrets to success.
My Name:
Bethany Donatelli
My Current Job/Company:
Manager, Global Accounts | HelmsBriscoe
My Birthday:
03.11.1980
My Work:
My role as Manager, Global Accounts with HelmsBriscoe is to be a "one-stop-shop" for my clients meeting needs. My role is to understand the organizational and logistical needs of my clients' meetings, recommend and source appropriate venues and serve as a liaison between them and the properties to negotiate the most favorable rates, concessions and contractual terms and conditions; ultimately ensuring my client receives the best possible solution.
In 2014 alone, HelmsBriscoe booked over $1 Billion dollars in sleeping room revenue, making HB the largest consumer in the meetings industry. I add value to my clients by bringing this buying power to the table with a client centric approach. I am a trusted advisor to my clients and offer honest, unbiased advice and solutions they can rely on at no cost. HelmsBriscoe is paid through a placement fee from the venue – you can add me to your team without adding me to your payroll!
My Passion:
Live life to the fullest! I strive to invest wisely with my time and relationships and not take anything for granted.
My Family:
Tony (Husband), Scarlett (10 year old Labradoodle) & Gracie (7 month Labradoodle).
My Hero:
My Sister – Mary. She is smart, determined, disciplined and strives daily to achieve her goals of being the best mom, wife, sister, and accountant. She does this with grace and dignity…I admire her ability to be a swan. She is my truth-teller and my best friend.
My Escape:
Traveling – I always have a trip on the books. My favorite escape is a beach anywhere!
My Pet Peeve:
Inconsiderate, negative people – I don't have time for it.
My Indulgence:
Great food and wine.
My Roots:
Small town girl. I grew up in a rural community near Findlay, OH (Arlington). I was raised by amazing parents surrounded by love, support and sibling rivalry.
My Future:
Full of happiness and hope.
My Favorite Quote:
"It's the simple things in life that are the most extraordinary." – Paula Coelho, author of The Alchemist
My Accessory:
A scarf, especially in the winter, and my iPhone (which I'm working on…I need to disconnect more often).
My Advice to Young Women:
Choose to surround yourself with positive, inspiring people who lift you up and add value to your life. Eliminate toxic influences.
How I Balance it All:
I don't…I have learned to let it go. I'm constantly re-prioritizing and shuffling my time to make it all work. I love my busy life and try to schedule down time when I need it…or when my husband tells me it's too much.