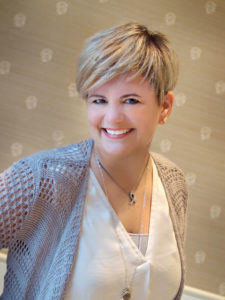 Here at Executive Elements, we like to feature fantastic women we think you should know. Some of these women are clients, some are friends, some are women we've only just met. But they all have this in common: they are dynamic, interesting women who have agreed to share with us their insights and secrets to success.
My Name:
Brandi Hann
My Current Job/Company:
Office Administrator/Squire Patton Boggs
My Birthday:
09.21.1972
My Work:
As the Office Administrator for a global law firm, every day is different. I oversee HR, Recruiting, Facilities, IT, Administrative Services and all general operations. Nothing is 'not my job' and I love it!
My Passion:
Bringing an end to cancer! I dream of living in a cancer free world.
My Family:
My husband of 19 years, Andrew; two amazing step-children, Alicia (26) and Kyle (24) and my English Mastiff, Dudley Maxwell
My Hero or Heroes:
My brother, Matthew. He put his life on hold to care for our parents after they were both diagnosed with cancer within 6 months of each other and then became our mom's soul caregiver after the death of our dad. He is the most selfless, courageous and humble person you will ever meet!
My Escape:
Yoga and meditation. It is so important to slow your brain down and rest your thoughts.
My Pet Peeve:
People who think are better than anyone else. We are all in this together and we need to respect and appreciate each other.
My Indulgence:
Bourbon and dark chocolate.
My Roots:
Respect others. Work hard. Be gracious. Family always comes first.
My Future:
My future is full of hope! After facing my own mortality with a cancer diagnosis, my entire life was put in a different perspective. At the same time, I lost the two most important people in anyone's life, my parents, to cancer as well. I have shifted my focus to making decisions about my future from a different place and not always making the "safe" decisions because I was afraid. Big things are happening in my life and I am so grateful for the opportunity to experience it!
My Favorite Quote:
"You are braver than you believe, stronger than you seem, and smarter than you think." –A.A. Mine (from Winnie the Pooh)
My Accessory:
Diamond earrings. When I lost my hair, I invested in real diamonds and I wear them every day. Every time I look at them, I remember those months that I had no hair, but my ears sparkled!
My advice to Young Women:
Live your life with purpose and passion. It is so easy to get caught up in making more money, going for the next promotion and focusing on tangible representations of success. This all means nothing if you are not living your life with purpose and passion.
How I Balance it All:
I am not afraid to ask for help, I have learned how to say no with grace and I keep everything in perspective.