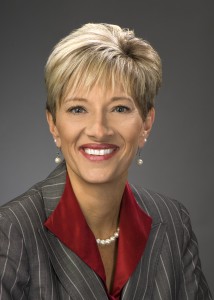 Here at Executive Elements, we like to feature fantastic women we think you should know. Some of these women are clients, some are friends, some are women we've only just met. But they all have this in common: they are dynamic, interesting gals who have agreed to share with us their insights and secrets to success.
Catherine Elwood
My Current Job/Company:
State Auto Insurance Companies
My Birthdate:
11/07/64
My Work:
I am responsible for all hiring at State Auto Insurance Companies, as well as the on-boarding, goal setting and development that helps new hires become successful, long-term associates. It's a great opportunity that I enjoy every day!
My Passion:
My family, work, exercise, and giving back.
My Family:
Doug (loving, supportive Husband), Sammie (Daughter – 23), Chad (Son – 20)
My Heroes:
My husband, Mother and Father, and awesome boss!
My Escape:
Any beach with my husband. The sun and sand rejuvenate my spirit and my soul; and exercise!
My Pet Peeve:
Negative people, "can't do" attitudes and procrastination
My Indulgence:
Wine
My Roots:
Midwestern, hard-working family who helped me develop a strong work ethic, and who are truly loving and supportive.
My Future:
The world is my oyster – I will work hard to achieve my goals and pay it forward so others can succeed as well.
My Movie:
"Must Love Dogs" and "The King and I" – great love stories.
My Quote about Life:
"No one can make you feel inferior without your consent." (Eleanor Roosevelt)

My Accessory:
Everything sparkly and lots of color
My Advice to Young Women:
Listen, learn, be patient and find a great mentor. Don't think of your career as a ladder, think of it as a jungle gym (you can swing to the next opportunity and broaden your experience base).
How I Balance it All:
I factor in free time and fun to keep me sane and calm. I surround myself with great family and co-workers who I consider my second family. AND, I try to remember that I can't be all things to all people. I need to be realistic about what's possible.