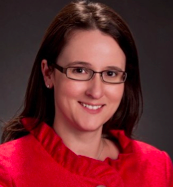 Here at Executive Elements, we like to introduce you to fantastic women we think you should know. Some of these women are clients, some are friends, some are women we've only just met. But they all have this in common: they are dynamic, interesting people who have agreed to share with us their insights and secrets to success.
Cathy Lanning
My Current Job/Company:
Vice President, Affinity and Strategic Alliance Management at Nationwide
My Birthday:
February 13th
My Work:
We partner with member based organizations and businesses across the country to co-create value. This includes alumni associations, professional groups, causes based organizations, sports teams, and communities of people. We understand the needs the partners member base, utilize smart co-branding and build relevant messaging to demonstrate how Nationwide can meet their protection needs (insurance, financial services, and banking).
My Passion:
My family, my team, my community
My Family:
Marty (loving and flexible husband), Charlie (curious and active 7-year-old son) and Caroline (sweet and spunky 5-year-old daughter)
My Heroes:
My Mom and Dad. They are an inspiration, sounding board, safe harbor, and source of motivation.
My Escape:
A long dinner with great friends, good laughs, and a few well made martinis.
My Pet Peeve:
Lack of authenticity. Deliberately misspelled words.
My Indulgence:
Sleeping late on a rainy day.
My Roots:
I grew up on the west side of Cincinnati. My family was lifted from very humble beginnings, so there was a focus on education, hard work, and self reliance. Happiness, laughter, friendship, faith and service were strong themes.
My Future:
Optimistic. Healthy. Happy. Fulfilled. Impactful. Committed. Inspired.
My Quote on Life:
I have a few that I enjoy. These include "The strongest steel is forged by the hottest fire" (unknown, but attributed to Chinese wisdom) and "The best is yet to come" (Shakespeare…and Frank Sinatra)
My Accessory:
A smile, a kind word and a big statement necklace.
My Advice to Young Women:
Find a small set of mentors who can be trusted advisors. Source them from within your company, but also from across your network so you can have a broad perspective. But you can't stop by establishing mentors – it's important to have advocates too. Every day be smart and be kind to build an advocacy base of people who see your contributions directly. These tend to be the leaders who may take a risk to grow you and will invest in you because they know your commitment, ambition, and capabilities.
How I Balance it All:
We have a strong use of Google Calendar to manage the family activities. I have a great support system with family who help close gaps and enhance our lives. Conference calls while commuting to and from work are helpful. I have inventoried what is important in life and let go of the little things that matter less. And finally, the great gift of caffeine.