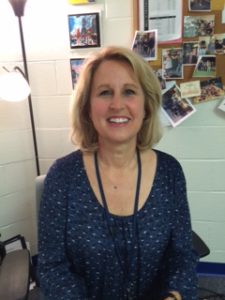 Here at Executive Elements, we like to feature fantastic women we think you should know. Some of these women are clients, some are friends, some are women we've only just met. But they all have this in common: they are dynamic, interesting women who have agreed to share with us their insights and secrets to success.
My Name:
Cheryl Allen
My Current Job/Company:
Middle School Dean of Students/Middle School Math Teacher – The Wellington School.
My Birthday:
10.4.60
My Work:
I connect with students and parents to help them become the best they can be during this transitional time.  Build student confidence in math.
My Passion:
My family, my work, my faith.
My Family:
Blended family! Geoff (husband), Jaedon (21), Maya (18) step sons Eliot (22) and Riley (25).
My Hero or Heroes:
My grandmothers – amazing, strong women who believed in the best in life.
My Escape:
Outside and on a walk.
My Pet Peeve:
People who complain.
My Indulgence:
Bad TV.
My Roots:
Traditional, grounded, service.
My Future:
Looking forward to what comes next!  We'll be empty nesters next year.
My Favorite Quote:
We cannot do great things…only small things with great love. (Mother Teresa)
My Accessory:
Glasses, scarf, eye contact.
My advice to Young Women:
Learn to listen to your heart.
How I Balance it All:
Make sure I carve down time.