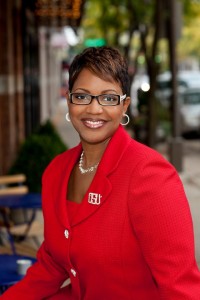 Dawn Tyler Lee
Current Job
Assistant Vice President, The Ohio State University/Executive Director, Partners Achieving Community Transformation
Birthday
10.15.72
My Work
I am a government and community relations professional. Currently, I lead new community redevelopment initiative of the University called Partners Achieving Community Transformation (PACT). PACT is a partnership of The Ohio State University, the City of Columbus and the Columbus Metropolitan Housing Authority. The University has committed to invest up to $10 million on the near east side of Columbus and my role is to work with numerous stakeholders to develop a community master plan for the PACT geography. The plan will help inform how those resources will be invested and what additional resources will be needed for the successful implementation of the plan.
My Passion
Serving others and the leadership development of young women.
My Family
My husband, Robert, of 8 years and my doggie, Bert, who we adopted 8 years ago. We think is 9 or 10. He is the first pet I've ever had and I love him so much! (By the way, Robert is the first husband I've ever had and I love him too. ☺ )
My Heroes
So many…my mom, Joyce Craddock and my grandmothers, Anna Williams and Pearl Collins, who provided the best life they could for my parents. I also honor all of the people who have taken the time to help shape me into the person I am today. This includes mentors, peer mentors, family and friends and even women whom I've never even met, but helped blaze a trail to make my journey a bit easier. They are my heroes as well.
My Escape
Weekly happy hour with my "friend group," monthly massages, and an annual trip to the beach. All of these things make me happy.
My Pet Peeve
So many…how to pick just one!
• Mornings
• The jingle from that damn "truvia" commercial
• Arrogance
• Inappropriate workplace attire
My Indulgence
Pear martinis with a sugar rim.
My Roots
Faith, family, community
My Future
Prayerfully, having a happy, healthy children sometime soon and being blessed with the opportunity to stay home with them for their early years.
My Love(s)
• Robert and Bert
• Fall
• Connecting people
• Cookies and cream ice cream, pasta, seafood
• Pear martinis with a sugar rim ☺
My Movie
So many…Shawshank Redemption, Selena, The Notebook
My Quote on Life
"To Whom Much is Given, Much is Required." -Luke 12:48
My Accessory
Necklaces
My Advice to Young Women
• Breathe. You don't have to have it all figured out.
• Meet new people.
• Move out of your comfort zone.
• Observe the leadership styles of other people, identify what you like about them and adapt it to your style.
• Listen to your gut, it's usually right.
• Participate in at least one ongoing community service activity.

How I Balance it All…
• Weekly happy hour with my "friend group," monthly massages, and an annual trip to the beach. ☺
• A great partner and circle of friends and mentors I can count on for encouragement, support, advice and good counsel
• Sleeping in on Saturday mornings, whenever possible
• I try not to :
o schedule anything on Sundays except church and family
o schedule after work events/activities more than 2 nights a week
o take work home