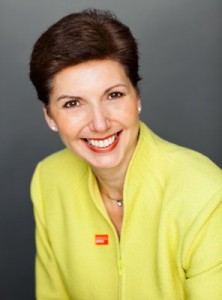 Each week, we feature a new woman from our growing community of dynamic professionals. If you know someone who should be featured, contact us!
Elfi Di Bella
My Current Job/Company:
President & CEO, YWCA Columbus
My Birthdate:
06.06.61
My Work:
have the opportunity to work on behalf of a mission that eliminates racism and empowers women and an organization that meets so many critical needs in our community. How lucky am I?
My Passion:
My family, my friends, my community and giving back
My Family:
Katie (daughter, 24)
My Heroes:
My parents, my brothers and some of my close lady friends
My Escape:
A bubble bath with wine and Enya or Vittorio in the background
My Pet Peeve:
Negative people and constant complainers
My Indulgence:
Spa visit
My Roots:
Humble and hard working
My Future:
Busy and Bright. Optimistic.
My Love:
Spending time with my daughter and friends and laughing so hard that I snort.
My Movie:
"Hello Dolly" – love the singing & dancing and a woman with a can-do attitude
My Quote on Life:
"Life is good"
and
"To love what you do and feel that it matters – how could anything be more fun?" (Katharine Graham)
My Accessory:
Anything persimmon
My Advice to Young Women:
Network – through one-on-one meetings or by attending different networking events.
Keep an open mind – as different opportunities present themselves – recognize the opportunities within them.
Embrace change – change is constant, change is here to stay and status quo is not an option. If you think change is difficult – try irrelevance.
Seek a mentor – who possesses the skills you lack or want to acquire.
Don't "sabotage" other women – be confident in your own abilities; support each other and we all win.
How I Balance it All:
It's hard. I am constantly reshuffling. I have a great support system with my team at work and my amazing group of friends. I schedule exercise time and down time to rejuvenate my spirit and soul.