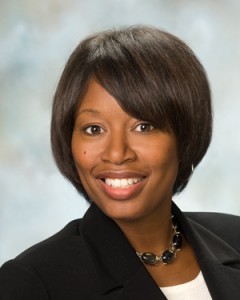 Each week, we feature a new woman from our growing community of dynamic professionals. If you know someone who should be featured, contact us!
Evelyn Sullen Smith

My Current Job/Company: General Counsel – Americas
My Birthdate: 10.06.68
My Work: I am legal counsel to Mettler-Toledo, Inc., the North American headquarters of the world's largest precision and weighing instruments manufacturer for lab, food retail and industrial applications.
My Passion: My quest for knowledge and wisdom.
My Family: Jason (Husband), Mikaili (3), Tori (2)
My Heroes: My mom, Thoris Marie Walton; U.S. District Court Judge Denise Page Hood; Hon. Andrew Young, former UN Ambassador; First Lady Michelle Obama
My Escape: My Barnes & Noble Nook (eReader) and running
My Pet Peeve: Lazy people
My Indulgence: Wine and (a rare indulgence) dates with my husband
My Roots: Born and raised in Detroit, Michigan
My Future: Only God knows
My Love: My family
My Movie: Toy Story 3 (thanks to my daughters)
My Quote on Life: For those to whom much is given, much is required.
My Accessory: Handbags
My Advice to Young Women: In this technology-driven world, never underestimate the power of a handwritten note on personalized stationery.

How I Balance it All: With lots of laughter!