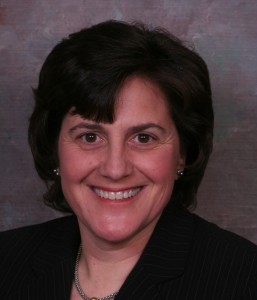 Here at Executive Elements, we like to introduce you to fantastic women we think you should know. Some of these women are clients, some are friends, some are women we've only just met. But they all have this in common: they are dynamic, interesting people who have agreed to share with us their insights and secrets to success.
Francie Henry
My Job
EVP Investment Advisors-Fifth Third Bank
My Birthday
7/19/64
My Work
I am responsible for running the Private Bank. I manage a team of highly credentialed specialists that work with our affluent clients by offering wealth planning, investments and private banking, risk management and trust services.
My Passion
My Family, my Greek heritage, and my friendships
My Family
Jim-wonderful husband of 23 years. Charlie (16) and Alexandra (13) – yes, I am raising two teenagers and enjoying (almost) every minute – so far so good!
My Heroes
My parents. My mom is 84 and has boundless energy. Unfortunately, I lost my dad 10 years ago. He was awesome and showed me unconditional love. I miss him every day.
My Escape
Blasting my favorite playlist from a golf cart while I hit as many golf balls as it takes to make a decent shot while watching the sunset. Added bonus….if one of the kids decides to tag along!
My Indulgence
Good food and drink with family and friends. I can sit around a table and talk for hours!

My Roots
I grew up in Mount Vernon, Ohio – great memories and a wonderful foundation – stable, simple, fun.
My Future
Life is good…the future is all about enjoying each day while creating choices for myself and opportunities for those I love.
My Favorite Quote
"Promise to give so much time improving yourself that you have no time to criticize others." (John Wooden)
My Accessories
Watches and cool bracelets (well, I think they are cool…my daughter often disagrees).
My Advice To Young Women
Enjoy the journey and don't put unnecessary pressure on yourself. As a woman, you aren't likely to love success in a career as an isolated entity. Your personal relationships are unique to you and will define YOUR individual happiness. Don't compare yourself to others.
How I Balance it All
I have an incredibly supportive and loving husband who serves as my sounding board. I lean on my mother for wise council and my closest friends for sage advice. I am not afraid to ask for help or admit that I am in over my head. I know that it is a constant balancing act. I measure balance over a period of time that allows me the opportunity to adjust to all that life throws your way.