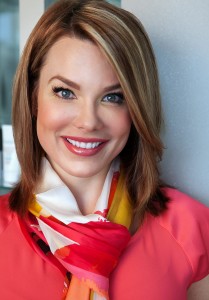 Here at Executive Elements, we like to feature fantastic women we think you should know. Some of these women are clients, some are friends, some are women we've only just met. But they all have this in common: they are dynamic, interesting women who have agreed to share with us their insights and secrets to success.
My Name:
Jaclyn Peresetsky
My Current Job/Company:
CEO/Skin Perfect Spas and Colore Me Perfect Cosmetics
My Birthday:
01.27.79
My Work:
I oversee all of our Skin Perfect spas by working directly with clients, training staff, developing product, creating new treatments, and managing and representing our brand.  I love every aspect of my work, love my clients, and most of all, I love my staff that has made this dream possible.  Having a talented and responsible team has enabled me to live in Florida near our newest spa location and fly back to Ohio twice a month to work at the other spas.
My Passion:
My love for changing women's lives. Affecting the outside changes them inside, allowing them to live their best life.  My faith keeps me going and encourages me everyday to follow this passion, no matter the obstacles.
My Family:
Dmitry (Supportive Husband), Misha, my son (Mr. Atheltic, 10 years old), Maksym my son (Mr. Innovator, 7 years old).
My Hero or Heroes:
My clients.  They inspire me and  bring joy to my soul.
My Escape:
Walking on the beach, doing yoga, and reading with my boys in bed.
My Pet Peeve:
People who whine about their circumstances, but don't do anything to change them.
My Indulgence:
Peanut butter and chocolate.
My Roots:
Country girl with big dreams.
My Future:
Growth, stability and more time with my family.
My Favorite Quote:
"The first step is the hardest-making a commitment to yourself for yourself."
-Mary Kay Ash
My Accessory:
Turquoise of any kind. Our Skin Perfect signature color.
My advice to Young Women:
Believe in yourself and do not be afraid to change your path.
How I Balance it All:
Our nanny, Mary keeps me sane.  I lost my parents early, so she is my rock.  She reminds me what matters.