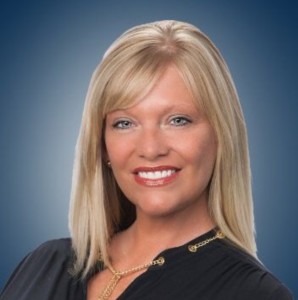 Here at Executive Elements, we like to feature fantastic women we think you should know. Some of these women are clients, some are friends, some are women we've only just met. But they all have this in common: they are dynamic, interesting women who have agreed to share with us their insights and secrets to success.
My Name:
Jaimine L. Johnson
My Current Job/Company:
Senior Vice President / Corporate Real Estate Manager at The Huntington National Bank.
My Birthday:
02/06/70
My Work:
Corporate real estate for The Huntington National Bank where we celebrate having over 750 physical bank locations throughout our seven state core portfolio. I manage all of our small office concepts throughout the USA. I am also on the due diligence team for all merger and acquisition activity.
My Passion:
My faith, my family, my friends and my community.
My Family:
Garrett – 25, Zack- 24, Maredith -22, Hunter- 12 and a new grandbaby, Marley – who is 4 Months.
My Hero or Heroes:
My Parents. My mother, Mary Kaye Walters, her late husband, Wayne Walters and my father, Dennis Siebeneck. They are simply amazing. Don Kenney of DRK AND COMPANY who has been a true mentor to me.
My Escape:
Yoga and any beach. The sun and water rejuvenate my spirit and my soul.
My Pet Peeve:
Negative people. You cannot hang out with negative people and expect a positive life. -Joel Olsteen.
My Indulgence:
Reading, walking and biking. Oh yes, and wine.
My Roots:
I have been blessed with a large family that is my foundation. I grew up in a small rural area with an amazing value system.
My Future:
I hope to share my gift of helping others grow and create the authentic life they desire. I encourage others to build a true foundation.
My Favorite Quote:
The greatest pleasure in life is in doing things people say you cannot do. -me
My Accessory:
I wear my stepfather's thumb print on a necklace. On the back it says, I love you – Dad. It reminds me every day that I have one of the best guardian angels.
My advice to Young Women:
I encourage you to build a true foundation based on faith, strength and authenticity. Everything begins within. Allow your true self to flourish. Almost every successful person begins with two beliefs: the future can be better than the present and I have to power to make it so.
How I Balance it All:
Prioritize, calendars and simply, my mother and daughter and their support.