Each week, we feature a fantastic new woman we think you should know. Some of these women are clients, some are friends, some are women we've only just met. But they all have this in common: they are dynamic, interesting gals who have agreed to share with us their insights and secrets to success.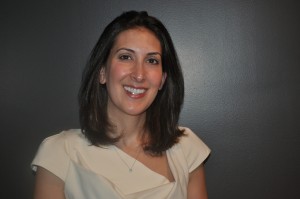 Jennifer Lefkowitz
My Current Job/Company: Independent Public Relations and Communications Consultant
My Birthday: 03-04-77
My Work: I work with a variety of clients to help develop and execute their communications strategies, with an emphasis on public relations to secure media placements and support their brand.
My Passion: I think passions change over time, but as long as I always remain passionate about my family, friends and making a difference in the lives of others, I feel fulfilled.
My Family: My husband Brian and two beautiful daughters (ages 3 and 15 months). My parents, Marvin and Renee, in-laws Randi and Sheldon, my brother Neal and my Grandma Miriam who will read about this on Facebook. I also have four brother-in-laws, one sister-in-law, two nephews and one niece.
My Heroes: My parents are wonderful people. I grew up in a very grounded household and was taught the importance of family, integrity, giving back and humor. Their generosity and support has helped me with many of my accomplishments.
My Escape: Usually any beach or pool in a tropical setting will do. There's no better escape than a weekend away with my girlfriends. We've all moved to different cities, which makes our reunions that much more special.
My Pet Peeves:
Drama – I like to keep things simple. And while I'm at it, people who linger at the bottom of an escalator or in front of a revolving door.
My Indulgence: Pilates – It's one of the best forms of exercise I've discovered. I also enjoy a glass (or two) of a good Sauvignon Blanc sitting on a porch on a beautiful spring/summer evening.
My Roots: I grew up in a small, Midwestern, tight-knit community that I couldn't wait to leave, and swore I'd never return. But after 12 years in a big city, I saw the benefits of the environment I grew up in and we moved back to the same community to raise our family.
My Future: I look forward to creating life-long memories and lessons for my daughters.
My Loves: Brian and my daughters.
My Movie: Waiting for Guffman
My Quote on Life: "Look for opportunity. You can't wait for it to knock on the door. … You might not be home." – Jinger Heath
My Accessory: Anything vintage that was handed down from previous generations. I can't wait to pass these items on to my daughters.
My Advice to Young Women: In a time where social media is integral in our everyday lives, stay polished and self aware. Remember your reputation precedes you, so make smart decisions and represent yourself in the best manner.