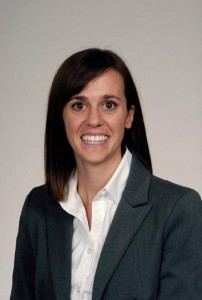 Here at Executive Elements, we like to feature fantastic women we think you should know. Some of these women are clients, some are friends, some are women we've only just met. But they all have this in common: they are dynamic, interesting gals who have agreed to share with us their insights and secrets to success.
Kate/Katy Trombitas
My Name:
Kate/Katy Trombitas
My Current Job/Company:
Vice President Financial Education, Inceptia (a division of National Student Loan Program), a national nonprofit organization
My Birthdate:
September 29, 1981
My Work:
My work focuses on creating a college-going culture at the k-12 level and promoting financial literacy as a key component of student success in college and beyond.

My Passion:
My family and my community
My Family:
Matt (my hubby) and Will (my 8-month old son)
My Hero:
My friend Tally, who has been an incredible mentor to me. She has taught me so much about how to keep life in perspective and what it means to be a compassionate and effective leader without compromising who I am and what I believe in.

My Escape:
A great book!
My Pet Peeve:
Round-a-bouts! Although I admit this is mainly due to user-error.
My Indulgence:
A long phone call with a friend
My Roots:
My parents always put an emphasis on the importance of education throughout my childhood, which has transformed into a life-long passion for me.

My Future:
Happy, healthy, fun and full of learning
My Love:
Spending time with my family and friends and watching my son grow.Nothing is more exciting than watching Will learn a new skill or reach a new milestone!
My Movie:
"The American President"- Aaron Sorkin + Annette Benning? Yes, please!
My Quote on Life:
"Finish each day and be done with it. You have done what you could. Some blunders and absurdities have crept in; forget them as soon as you can. Tomorrow is a new day. You shall begin in serenely and with too high a spirit to be encumbered with your old nonsense." (Emerson)

My Accessory:
My dogs! We have two sweet, faithful pups that round out our family and are always by my side.
My Advice to Young Women
-Find a partner who will help you follow your dreams and do the same for him/her.
-When others underestimate you, don't be discouraged; use it as motivation.
How I Balance it All:
I don't! But every day I try to be the person who deserves the wonderful life I have.