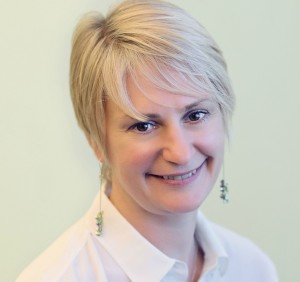 Here at Executive Elements, we like to introduce you to fantastic women we think you should know. Some of these women are clients, some are friends, some are women we've only just met. But they all have this in common: they are dynamic, interesting people who have agreed to share with us their insights and secrets to success.
Katie Birch
My Current Job/Company:
Director – Product Management; OCLC, headquartered in Dublin, Ohio, is a non-profit library cooperative with member libraries throughout the world. We provide research, programs and services that help libraries share and organize the world's knowledge.
My Birthday:
Nov 5th, 1971
My Work:
I am a Director in the Product Management division at OCLC with complete responsibility for one of OCLC's largest business lines. Product management enables me to work across the organization and directly with libraries as well – it satisfies my need to multitask and have a lot of plates spinning!
My Passion:
At work I'm passionate about seeing software projects through from start to finish that deliver sustainable benefits to libraries, where those benefits are ultimately passed on library patrons.
My Family:
In Columbus, my immediate family is my husband Jonathan, and our cat Lily who moved with us from the UK in 2012 and I would include our wonderful friends in Columbus who have really made us feel at home here. In the UK, we both have large families with 11 nieces and nephews between us, fortunately the Internet makes it much easier to keep in touch.
My Heroes:
I admire storytellers and authors, who can create an alternative world for me to escape in to especially female authors like the Bronte sisters, Elizabeth Gaskell and more recently, Sarah Waters and Kate Atkinson. It is no coincidence that I work with libraries!
My Escape:
On a day to day basis, working out, reading, or cooking, but really, I love to travel and always like to have an adventure planned to look forward to.
My Pet Peeve:
People who lack a sense of adventure, or a willingness to try something new
My Indulgence:
My closet
My Roots:
A regular British family growing up in the north of England in the 1970s!
Try reading The Northern Clemency by Philip Hensher.
My Future:
To continue to be successful and the best I can be in everything that I do
My Quote on Life:
No quote as such, but a poem that I frequently return to which ends
Two roads diverged in a wood, And I
I took the one less traveled by
And that has made all the difference.
The Road Not Taken by Robert Frost
My Accessory:
Today, a very indulgent Hermes scarf
My Advice to Young Women:
Be level-headed and true to yourself
How I Balance it All:
It's important to me to not to over commit and to find time for me every day, whether that's working out, cooking, reading – just doing something that I enjoy doing, by myself – it helps keep me sane!