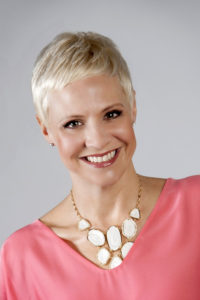 Here at Executive Elements, we like to feature fantastic women we think you should know. Some of these women are clients, some are friends, some are women we've only just met. But they all have this in common: they are dynamic, interesting women who have agreed to share with us their insights and secrets to success.
My Name:
Kelley Griesmer
My Current Job/Company:
Vice President, Special Projects at The Columbus Foundation
My Birthday:
05.13.68
My Work:
I work on special initiatives to amplify The Columbus Foundation's mission to assist donors and others in strengthening and improving our community for the benefit of all its residents. This includes working on The Big Table, The Big Give and Gifts of Kindness.
My Passion:
Spreading kindness and empowering people to bravely pursue philanthropy.
My Family:
Greg (husband of 23 years) and Keiran (14 year-old son who attends Columbus Academy).
My Hero or Heroes:
My Mom because she's the strongest person I know and I owe everything I am to her.
My Escape:
Live music – especially when played by Dave Matthews Band.
My Pet Peeve:
When people refuse to acknowledge the correct spelling of my first name.
My Indulgence:
Champagne, Chocolate and Yoga (but usually not together).
My Roots:
Truth and Humor.
My Future:
Unknown. I do my best to focus on now.
My Favorite Quote:
Technically, these are lyrics. "Above all things, if kindness is your king, then heaven will be yours before you meet your end."
(Dave Matthews)
My Accessory:
Jewelry and shoes – they are my forms of artistic expression.
My advice to Young Women:
Your thoughts are all you have, so try to make them brave. (Cribbed from Jason Mraz lyrics.)
How I Balance it All:
It takes a village so I have to be willing to ask for help when I need it. And when I feel like I'm losing the race, I try to remind myself that I am enough.