Each week, we feature a fantastic new woman we think you should know. Some of these women are clients, some are friends, some are women we've only just met. But they all have this in common: they are dynamic, interesting gals who have agreed to share with us their insights and secrets to success.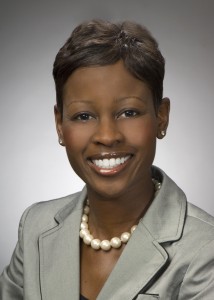 Marchelle E. Moore
My Current Job/Company: VP of Legal Affairs & General Counsel/Central Ohio Transit Authority
My Birthday: 3/4/73
My Work: I serve as the chief legal officer for COTA and am responsible for providing, directing and controlling the delivery of legal services to the organization.
My Passion: My faith, my family and my community.
My Family: Payton (8 year old daughter) + John David (5 year old son) = My pride and joy!
My Heroes: My parents for loving me and making infinite sacrifices so that I can live the incredibly blessed life that I do; and William J. Lhota (former COTA President/CEO) for believing in me and providing opportunities for me to grow professionally.
My Escape: My home – it is filled with love, peace and joy!
My Pet Peeve: Half-truths or even worse – lies! I can deal with any truth, no matter how bad; but I have zero tolerance for lies.
My Indulgence: Peach cobbler!
My Roots: Humble but happy.
My Future: Not certain – but I'm sure I'll enjoy the ride.
My Love: My children.
My Movie: Shawshank Redemption.
My Quote on Life: "Life's too short to be miserable."
My Accessory: Joy!
My Advice to Young Women: The only sustainable success is earned success. There is no substitute for hard work.
How I Balance it All: With God's grace.