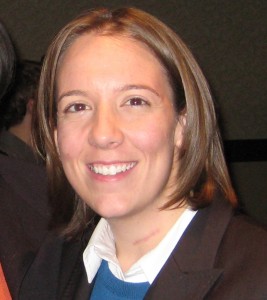 Megan Kilgore
My Current Job/Company: Assistant City Auditor, City of Columbus.
My Birthdate: June 20th
My Work: My primary responsibility is to issue and manage the City's debt (portfolio of $3.2 billion). I also serve on the boards of the YMCA, the endowment board of the YWCA, the Columbus Historical Society, and recently founded a statewide organization, Ohio Women in Public Finance.
My Passion: The community. Coaching Special Olympics basketball (2010 State Championship!). Facilitating projects and connecting individuals with local resources. I am truly more excited about the future of this City, particularly over the next five years, than I have ever been.
My Family: Shelley K. Boone, MD (Partner); a lovable St. Bernard (Barley); two eccentric cats (Luxor and BK).
My Heroes: I am profoundly moved by the caliber of the spirited, resourceful, forward-thinking women of Columbus. Past and present. Attend a YWCA luncheon or read a page from Ruth Young White's 1936 We Too Built Columbus . . . you'll quickly realize you're in the presence of greatness.
My Escape: A hard work out followed by a long, quiet dinner with my partner.
My Pet Peeve: Apathy.
My Indulgence: Travel – near and far!
My Roots: A small, hardworking town. Lots of time spent outside, lots of scraped knees, and a mother providing endless support of my imagination.
My Future: Public service.
My Love: I have lots of loves . . . numbers, the anticipation of a big trip, side-hurting laughter with friends, a board meeting buzzing with ideas, holidays with family, and early workday mornings in Columbus, when I can sit down with a cup of good coffee and the Wall Street Journal and watch the City come to life.
My Movie: The Sound of Music.
My Quote on Life: A twist on a Maya Angelou quote…people may not remember what you said, but they will remember how you made them feel.
My Accessory: A Mary Poppins, I could stuff-a-llama in it, bag. I don't know why I need all of the stuff that I carry, but I do. Cole Haan comes out with a new, similar-style each year. My dear friend Brook calls it our Director of Security as it could undoubtedly take a bullet for us.
My Advice to Young Women: Be a sponge for information and don't be afraid to ask questions. Listen to your passions and find a blend of volunteer and (career) work that gets you excited to start each day. Take advantage of the mentors in your life, the individuals you admire most, and learn from them. Doors will open. Just don't forget to keep a foot in the door so you can welcome future women as well.
How I Balance it All: I love what I do. That's the easiest way.