Each week, we feature a fantastic new woman we think you should know. Some of these women are clients, some are friends, some are women we've only just met. But they all have this in common: they are dynamic, interesting gals who have agreed to share with us their insights and secrets to success.
Melina Metzger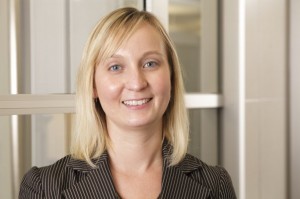 My Current Job/Company: Public Relations Manager, Safelite AutoGlass®


My Birthday: January 23, 1978


My Work: I have worked in public relations and marketing for 12 years. I joined Safelite AutoGlass® in August 2010 in a newly created PR position with the goal of making our company "famous for service." With nearly 10,000 employees nationwide, I help facilitate media interviews and publicity opportunities and help manage the company reputation. I can easily say that Safelite has created one of the best work environments I have ever experienced.


My Passion: My passion is traveling and experiencing new cultures. I recently took my first European vacation to France (Paris, Provence and Nice) and hope to make overseas travel a part of my life.
My Family: Still seeking my better half!


My Hero: My grandmother, who at the age of 93 finally lost a nearly 10-year-long battle against cancer just over a year ago. We share many similar traits (at least I like to think we do). She lives on in me and how I live life and treat others. She was the most independent woman I have ever known. She was strong, mentally and physically, and rooted in family and faith.


My Escape: I began running about eight years ago – something I never thought I would do. Now, taking an outdoor run on a sunny day to clear my thoughts is the best escape imaginable. I even completed my first duathlon (run/bike/run) last April!


My Pet Peeves: People who judge others too quickly. We're all human and, by nature, flawed.

My Indulgence: I am a thrifty person so my indulgences are based on experiences – having an extra glass of wine with a friend, splurging on dessert after a good meal, or frequent trips to the neighborhood Mexican joint.
My Roots: My family has lived on the same farm in northwest Ohio for over 100 years. My ancestry includes German, French, Irish and Swiss. I am my own melting pot.


My Future: I pray for health and happiness… beyond that, I never plan too far ahead!


My Loves: I am a music fanatic. I love discovering new bands and supporting local acts.


My Movie: I fell in love with the original Gidget film with Sandra Dee when I was young, and it is still one of my favorites. If only we lived in a world where we could still say, "Gee, daddy," and "golly!"


My Quote on Life: "God loves you just the way you are, but he loves you too much to let you stay that way." When I first heard this line in movie, it was a funny insult to the character. But, it rang very true to me… I'm good enough just the way I am, but there's always room to be better.


My Accessory: I have an addiction to vintage jewelry. I have many of my grandmother's pieces and antique store finds.
My Advice to Young Women: Look to multiple people to serve as mentors. I have been fortunate to build an outstanding network of female mentors. Karen Twinem served as the executive vice president of the agency where I worked for eight years. She took me under her wings and developed me as a PR professional, inspired my creativity, and helped me cope with friends who were struggling with mental illness. Michelle Moore, Kristin Mack-Deuber, Caroline Cofer Golon, and Kim Ratcliff who all passed through my professional life continue to serve as sources of daily strength and inspiration.