Each week, we feature a fantastic new woman we think you should know. Some of these women are clients, some are friends, some are women we've only just met. But they all have this in common: they are dynamic, interesting gals who have agreed to share with us their insights and secrets to success.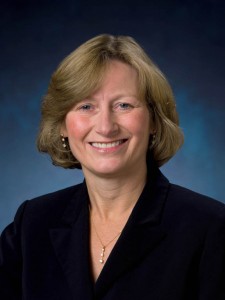 Michelle Norris
My Current Job/Company: Senior Vice President at National Church Residences
My Birthday: Oct 2, 1960
My Work: I currently head National Church Residences' Acquisitions and Development team. It is a small team of bright, talented and dedicated people who are responsible for the many complicated, innovative and significant housing developments that National Church Residences creates each year.
My Passion: I am passionate about the desire to be as integrated and as consistent a person as possible. To be present in the moment no matter what
My Family: David (husband); Jessica (daughter – 26); Bentley & Winston – the Yorkies; Mikey – the cat
My Heroes: I am so blessed to have so many heroes in my life that to name one or two would be unfair. I have been touched by many people who have cared about me, encouraged me, inspired me, challenged me, and loved me.
My Escape: Back packing in amazing places like Yosemite and Grand Canyon with my husband.
My Pet Peeve: People who are nasty to staff at hotels, airports, restaurants.
My Indulgence: Starbucks in the a.m. and wine in the p.m.
My Roots: Loving, extended family from Lima, Ohio. Rural Cleveland until I was 10. Then to Columbus where I have lived the rest of my life. C-bus is my town as the rest of my family moved to Georgia and Missouri. I just realized that I work at one of the best organizations in town, I go to one of the most amazing churches in town, and I live in one of the best towns in the country! What a combo!
My Future: My future is yet to be determined but I pray that I do something good for someone every day of my life.
My Movie: Most recent is "The Help" – inspiring, insightful, yet funny at all once!
My Love: Finding time to be still and reflect on the many blessings in my life.
My Quote on Life: I am an avid reader and I keep a journal of every book I read and I take notes of many inspirational quotes. Here is one of my favorites: Night – Elie Weisel "There is so much to be done, there is so much that can be done. One person – a Raoul Wallenberg, an Albert Schweitzer, a Martin Luther King Jr – one person of integrity can make a difference, a difference of life and death."
My Accessory: Unfortunately, my Blackberry!
My Advice to Young Women: Give yourself a break! Recognize and honor your gifts. Try hard to accept the fact that you can't do it all and that is OK and healthy!
How I Balance it All: I balance it all by realizing that I can't balance it all! I try hard to pay attention to how much time I am spending on the various facets of my life. As I have gotten older, I have been more willing to do things like escape to quiet places and to journal and pray. These times help me gain perspective on the rest of my very full life.