Here at Executive Elements, we like to feature fantastic women we think you should know. Some of these women are clients, some are friends, some are women we've only just met. But they all have this in common: they are dynamic, interesting gals who have agreed to share with us their insights and secrets to success.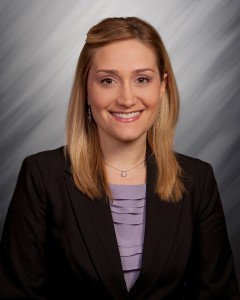 Miranda Morgan
My Current Job/Company:
Partner at Ice Miller, LLP
My Birthdate:
08.30.79
My Work:
My legal practice is concentrated in tax law, with a focus in gift, estate and trust taxation. I advise individuals on estate planning, succession planning, charitable planning and wealth transfer planning. I represent fiduciaries in estate administration matters and counsel trustees on trust administration and fiduciary responsibilities. I also represent clients in controversies with the Internal Revenue Service, including examinations and other proceeding at all administrative levels of the IRS.
My Passion:
My family, my work, my friends
My Family:
My husband, Ryan, our three daughters, Mya (5), Ava (1), Ella (1) (twins!), and Dempsey (our 8-year-old boxer)
My Heroes:
I do not have one particular hero. In lieu of having a hero, there are many people in my life who have traits I admire (a great parent, a great lawyer, a great friend, a great communicator, a great philanthropist) that I look to as role models as I aspire to be the best I can be in that aspect of my life.
My Escape:
Vacationing. All inclusive resorts are our favorite getaway.
My Pet Peeve:
Being late.
My Indulgence:
Starbucks Peppermint Mochas and massages.
My Roots:
I grew up on a farm in a very small town. I attribute my work ethic and dedication to this upbringing.
My Future:
Busy. Fun. Challenging.
My Accessory:
I love all accessories, but the one I never leave home without is my watch (which ties in to my pet peeve).
My Advice to Young Women:
Don't let your own self-doubt hold you back. If you don't have confidence in yourself you can't expect others to.
How I Balance it All:
I have a great husband and a great nanny who share the burden of my household responsibilities, which leaves me more quality time with my children. I am constantly working at becoming more efficient, delegating more, and stressing less about the little things both at home and at work.