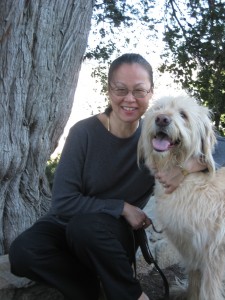 Each week, we feature a fantastic new woman we think you should know. Some of these women are clients, some are friends, some are women we've only just met. But they all have this in common: they are dynamic, interesting gals who have agreed to share with us their insights and secrets to success.
Quincy Yu
My Current Job/Company: President/SeaYu Enterprises, the makers of Clean+Green®
My Birthday: I am a Libra
My Work: Delivering natural cleaning products that work, and educating women about keeping a healthy, sustainable home.
My Passion: I have two major passions right now: ensuring that our children are sufficiently educated because this is the foundation for their futures, and educating women on how to create healthier homes.
My Family: My family consists of a husband and six children (five human and one dog) plus an extended family of siblings and their families of 42 people.
My Heroes: My dad, who left China and his profession to start a new life and better life for his family…and who never complained when working 364 out of 365 days a year.
My Escape: Reading
My Pet Peeve: Rude behavior, i.e. people not getting up on the bus to let elderly people or pregnant women sit down, people talking over others, people talking loudly on their cell phones in public, etc.
My Indulgence: An occasional expensive and decadent glass of my favorite red wine.
My Roots: I am a first generation Chinese American.
My Future: My children.
My Movie: Don't have one.
My Love: My husband, Dennis.
My Quote on Life: Live life with no regrets.
My Accessory: Shoes.
My Advice to Young Women: Don't be afraid to fail!
How I Balance it All: Understanding my priorities, and prioritizing demands accordingly.