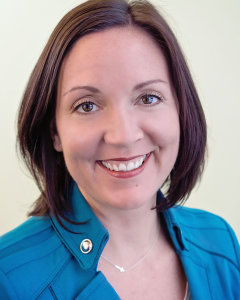 Here at Executive Elements, we like to introduce you to fantastic women we think you should know. Some of these women are clients, some are friends, some are women we've only just met. But they all have this in common: they are dynamic, interesting people who have agreed to share with us their insights and secrets to success.
Rachel Lustig
My Current Job/Company:
President and CEO / Catholic Social Services
My Birthdates:
01.04.78
My Work:
Catholic Social Services strengthens families, provides emergency relief, and helps seniors age with independence. We serve 11,500 people in Central and Southern Ohio each year.
My Passion:
Creating opportunities for people who are poor or forgotten.
My Family:
I have eight crazy, amazing siblings, and I am expecting my 19th niece or nephew.
My Heroes:
Pope Francis, I stand in awe; and my parents, Jan and Joe, who simply lived their values – Faith, Family, Education – day in and out.
My Escape:
The beach, mountains, or an adventure to another part of the world.
My Pet Peeve:
Complaining without the intent to do anything about it.
My Indulgence:
Wine, sweets, and a dance floor. Look out!
My Roots:
Have you seen the movie Hoosiers?
My Future:
I just took one of my staff out to lunch on her 90th birthday. I hope I am still giving back and following my passion my whole life too!
My Quote on Life:
"Come Holy Spirit." Fr. Theodore Hesburgh
My Accessory:
A small vertical cross around my neck.
My Advice to Young Women:
I hung this on my wall in college. "Our deepest fear is not that we are inadequate. Our deepest fear is that we are powerful beyond measure. It is our light, not our darkness that most frightens us. We ask ourselves, Who am I to be brilliant, gorgeous, talented, fabulous? Actually, who are you not to be? You are a child of God. Your playing small does not serve the world. There is nothing enlightened about shrinking so that other people won't feel insecure around you. We are all meant to shine, as children do. We were born to make manifest the glory of God that is within us. It's not just in some of us; it's in everyone. And as we let our own light shine, we unconsciously give other people permission to do the same. As we are liberated from our own fear, our presence automatically liberates others." -from A Return to Love, by Marianne Williamson
How I Balance it All:
I draw inspiration from the people that have the courage to ask Catholic Social Services for help. They are balancing much more than I am.