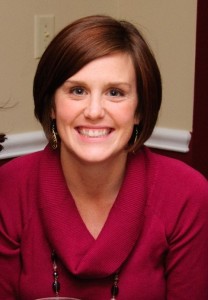 Rebecca Wiggins
My Current Job/Company:
Director of Certification Programs, AFCPE (Association for Financial Counseling and Planning Education)
My Birthdate:
04.27.1980
My Work:
Oversee and manage the certification program process, and coordinate implementation of grant funded financial education training programs
My Passion:
Faith, Family, Friends, Music
My Family:
Mark (Husband), Owen (3), Nora (8 months), Oscar (mini-schnauzer)
My Heroes:
My parents, Bob and Claire–taught me work ethic, loyalty and passion for making this world better
My Escape:
The mountains, especially in the Fall
My Pet Peeve:
Passive aggressiveness, narrow-mindedness, complacency, negativity
My Indulgence:
Wine, dark chocolate
My Roots:
Happy. Family. Friends. Music
My Future:
Open, optimistic, growth
My Love:
Listening to the kids giggle, quality time with family and friends, music, traveling
My Movie:
When Harry Met Sally, "when you know you want to spend the rest of your life with someone, you want the rest of your life to start as soon as possible"
My Quote on Life:
"One's philosophy is not best expressed in words; it is expressed in the choices one makes." – Eleanor Roosevelt
My Accessory:
Earrings and a smile
My Advice to Young Women:
Surround yourself with authentic, positive, encouraging people. Embrace life's twists and turns–sometimes things don't work out how we expected or planned, but we end up right where we're supposed to be, learning and growing in the process.
How I Balance it All:
Day by day. Each horse in the race leads or falls behind as necessary. Be kind to yourself and allow the ebb and flow of roles and priorities. Trust your instincts.