Here at Executive Elements, we like to feature fantastic women we think you should know. Some of these women are clients, some are friends, some are women we've only just met. But they all have this in common: they are dynamic, interesting gals who have agreed to share with us their insights and secrets to success.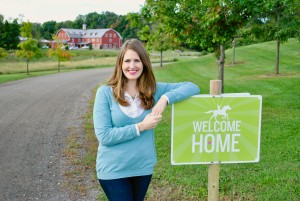 Regan Walsh

My Current Job/Company:
Chief Storyteller, Flying Horse Farms
My Birthdate:
07.13.77
My Work:
I tell stories about the extraordinary campers of Flying Horse Farms to anyone who will listen. My job is to build awareness about Flying Horse Farms, a camp for children with serious illnesses. My goal is three-fold: reach more camper families, find more volunteers, and inspire donors to continue to fund this important work.
My Passion:
Random acts of kindness.
My Family:
Nick (We are getting married in November), loving parents, five older siblings, 13 nieces and nephews and supportive friends.
My Heroes:
Janice & Leo Walsh, my parents. They gave their children wings to fly and deep roots to come home to.
My Escape:
A little island called Vieques. Or my front porch.
My Pet Peeve:
Gossip.
My Indulgence:
Classes at Thank Yoga, facials (Sarah Goetz), massages (Laura Wieck).
My Roots:
I come from a loving (and hilarious) family. My parents raised six children and ran a family business together. We were taught to work hard, take risks, be kind to others and invest in our community.
My Future:
..is happy.
My Quote on Life:
"Be soft. Do not let the world make you hard. Do not let pain make you hate. Do not let the bitterness steal your sweetness. Take pride that even though the rest of the world may disagree, you still believe it to be a beautiful place." -Kurt Vonnegut
My Accessory:
Bright lipstick. (I believe bright lipstick is a mood-shifter. It's hard to feel bland when you're wearing bright lipstick).
My Advice to Young Women:
Life is more interesting if you don't follow a plan. Be adventurous and surround yourself with smart people.
How I Balance it All:
I don't fill my schedule with "I should's." I am protective of my time and I invest it in people I love and work I am passionate about.