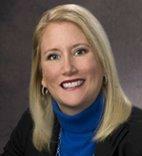 Here at Executive Elements, we like to introduce you to fantastic women we think you should know. Some of these women are clients, some are friends, some are women we've only just met. But they all have this in common: they are dynamic, interesting people who have agreed to share with us their insights and secrets to success.
My Name:
Susan Harty
My Current Job/Company:
A Partner at Vorys, Sater, Seymour and Pease
My Birthday:
8/9/66
My Work:
I am a trial lawyer who serves as national counsel defending companies and their products around the country. I also serve as Chair of our firm's Training Committee, a founder and Co-Chair of our firm's Women's Initiative, and am on our firm's Business Development Committee.
My Passion:
I am passionate about my family, my clients, and the opportunities I have to make a positive difference.
My Family:
I am blessed to have an incredible husband, Kevin, and three great kids (Brendan – 17, Megan – 15 and Caitlin – 14).
My Hero or Heroes:
One of my law partners, Sheila Gartland. She is incredibly brave, strong and compassionate.
My Escape:
Being on a beach or lake.
My Pet Peeve:
Dishonesty.
My Indulgence:
Reading.
My Roots:
I am a Midwestern girl. I grew up in Indianapolis and lived in Dayton and Chicago before settling in Columbus.
My Future:
Filled with wonderful possibilities.
My Favorite Quote:
I don't have a single favorite. It changes regularly depending upon my mood and my circumstances.
My Accessory:
My iPhone.