Each week, we feature a fantastic new woman we think you should know. Some of these women are clients, some are friends, some are women we've only just met. But they all have this in common: they are dynamic, interesting gals who have agreed to share with us their insights and secrets to success.
Toni M. Cunningham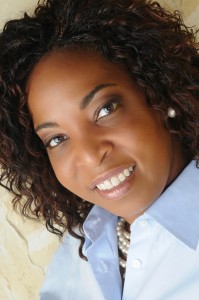 My Current Job/Company: Principal Consultant/Image Anu, LLC
My Birthdate: 07.02.66
My Work: I provide consultation to my clients in the area of personal and professional development for their customers and/or workforce. I assist them with achieving their goals related to aligning skills and talents with passion and purpose to ensure that the "value add" of the individual or team is maximized. I believe that people perform best when their role matches their soul.
My Passion: Helping people get to "next" in their lives (whatever that next is for them).
My Family: Helen (Amazing Mother), Bryan and Martin (Half Brothers), BJ/Cory/April/Jaylen/Jarrod (Nieces and Nephews), The BG's & My Besties (Girlfriends)
My Hero: My Mom (Helen Cunningham). She has an amazing ability to show unconditional love.
My Escape: Any destination that includes the sun, sand, and water. Water relaxes me.
My Pet Peeve: Poor customer service & people who expect something for nothing.
My Indulgence: Donatos Pizza. Chicken wings. Drinks with girlfriends.
My Roots: My faith sustains me. As well as the support of my family and friends.
My Future: Exciting! Fueled by the pursuit of my passion and purpose.
My Love: Hanging with my girlfriends. Listening to old school R&B and gospel music. Dogs (they make me smile).
My Movie: Coming to America (I know all of the lines). I love comedies and love stories!
My Quote on Life: "Not every conversation will change your life, but every conversation could."-Jan Allen
My Accessory: Anything that blings!! I love BLING!
My Advice to Young Women: Identify your purpose and find your passion early and pursue them. The world needs what you were born to give us. Purpose + Passion = POWER!
How I Balance it All: It's hard. I consistently struggle with this issue. Being a consultant and working with multiple clients, it is important to be able to manage multiple priorities. Time management and self discipline are things that I constantly work to improve. In the meantime, I try to focus on "being in the moment" and focused on the task at hand to ensure that I am providing quality outcomes. On the flip side, it is important to have down time. I make time for hanging out with friends or pampering myself to stay rejuvenated.