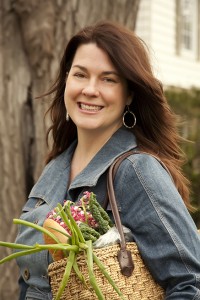 Tricia Wheeler

My Current Job/Company:
Publisher and Editor in Chief, Edible Columbus
My Birthdate:
January 7
My Work:
I publish a quarterly publication called Edible Columbus, to champion local food, artisans, farmers, producers, chefs and food enthusiasts. I also teach a series of cooking classes each quarter that celebrate seasonal fare and dishes.
My Passion:
Helping people become confident in the kitchen and introducing them to the bounty of interesting foods and producers we have in Ohio.
My Family:
Scott, my husband, and Kensington, my daughter.
My Heroes:
Julia Child and Jacques Pepin.
My Escape:
New York City.
My Pet Peeve:
Clutter, physical and mental.
My Indulgence:
I buy any ingredient I want for my recipes – no matter how rare or expensive – to make the dish perfect!
My Roots:
A couple of generations of wonderful cooks who cared about connecting our family through traditions around the table.
My Future:
Exciting as I find more opportunities to share the stories of our local food community.
My Love:
My family, especially my daughter.
My Movie:
Julie and Julia.
My Quote on Life:
Life is not about waiting for the storms to pass….it's about learning how to dance in the rain.
-Unknown
My Accessory:
Purses!
My Advice to Young Women:
Don't be afraid to take risks, especially entrepreneurial ones, when you're young. If you have the entrepreneurial drive, act on it now! The sky is the limit with what you can do.
How I Balance it All:
I get up early. Also, I take time for myself.