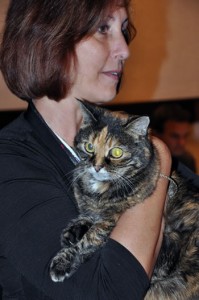 Each week, we feature a fantastic new woman we think you should know. Some of these women are clients, some are friends, some are women we've only just met. But they all have this in common: they are dynamic, interesting gals who have agreed to share with us their insights and secrets to success.

Yvonne DiVita
My Current Job/Company: Co-founder, BlogPaws, LLC
My Birthday: August 4, 1951
My Work: Social Media professional
My Passion: Writing, pets, women's issues, reading
My Family: Tom Collins, husband. Chloe, Maggie, Donnie: adult children. Miah: teenaged granddaughter. Frankie: toddler granddaughter
My Heroes: Katharine Hepburn, Audrey Hepburn, Edgar Allan Poe, old movie stars that had class.
My Escape: Napping…I've napped since I was a child. In naps, I rejuvenate and dream of life as it should be. Sometimes, I dream of life as it was. When I awaken, I feel good about today and I look forward to tomorrow.
My Pet Peeves: People who think they are better than other people. People who believe rumors. People who think everyone needs to be like them.
My Indulgence: TV – yes, I watch a lot of TV. Mostly CNN or HGTV or The Mentalist. I do love old movies with Judy Garland or Cary Grant.
My Roots: They tell me I'm German, Dutch, English and something else. I think the something else is mouthy – I tend to speak my mind.
My Future: Is based in this moment.Tomorrow will always be better if I don't cling to today. I love change – I love dreaming of what can be and not dwelling in what was (or wasn't).
My Love(s): Books! Animals! My kids and Tom and great family get-togethers where all of us play "Remember when"….Memories are often the best fictional stories ever. (No one ever remembers something the same way twice, and two people remember it totally different; what fun to hear how someone else remembers something you always thought was…the way you remember it!)
My Movie: "Breakfast at Tiffany's"
My Quote on Life: "Women are the real architects of society." – Harriet Beecher Stowe
My Accessory: Lipstick.
My Advice to Young Women: Don't worry so much about the shoes, the handbags or the hair on your head. Remember that today is only a fraction of your life – that you will be "old" according to society for much longer than you are "young." Therefore, vow to never age – grow up but never grow older. When you are older, and it will happen, be proud, be strong, and appreciate the life you've been given. It may not be perfect, but it's yours. And yes, YOU are in charge. YOU can be whatever you like. Everything you do involves: Thinking, Being, Doing – in that order.
How I Balance it All: I don't balance it all. I let it slip and slide and when it gets too treacherous, I take a nap. Funny how it all levels out when I've woken up.