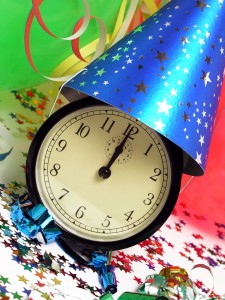 By Chasity Kuttrus
It's mid-December. Has it hit you yet that 2013 is less than three weeks away? I know; it's hard to believe. But most of us look forward to the new year as a time to refresh, restart and, well, change things.
But don't wait until December 31st to decide what you want to be different next year. You have three weeks….take some time to think, really think, about what you'd like your 2013 to look like and then start making some progress towards those goals now.
Here are some ways to help you beautifully wrap up 2012 in nice little package and get a head start on resolution success!
1. Make a list of the ups and downs of 2012. Be specific and detailed; no happening is too small or insignificant. Go month by month and recall conversations, successes and challenges or, yes, outright failures. This will be good for you, I promise. And, I am certain you'll be pleasantly surprised about all you've achieved this year. It's a great way to get energized for next year!
2. Be realistic….and be grandiose…about what you'd like to be different next year. Create goals you know you can achieve (it's great for your self esteem!) but also make sure you're stretching yourself and your ambitions. You are capable of much more than you can imagine! How "big" do you really want to play in 2013?

3. Visualize yourself achieving your goals. I know it sounds a little corny but visualization is a very useful and effective technique. It helps you get into the mindset of success and prompts ideas about how to meet – and exceed – your goals.
4. Plan. Planning is the key to success with almost anything. Seriously. Take some time and plot out how you are going to achieve the goals you've set for yourself. You may not have all of the answers now…they often unfold as they're happening…..but having some action items against all of your long term resolutions will help you know where to begin.
5. Don't wait until January 1 to begin making changes. Little changes will get you motivated to make bigger ones once New Year's day dawns. If you want to network more next year, get out there now! The holidays are a great time to meet people. If you want to lose weight, don't go hog wild over the next few weeks and then cold turkey in the new year. Start making some better choices now (and counteract some of that holiday indulging!) You'll feel more motivated once the new year begins. If you want to write your novel in 2013, then start making some notes, outlines and jot down ideas to yourself.
Finally, have some fun with your resolutions! Own them; don't let them own you. You can do it!