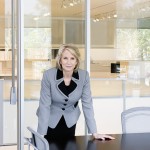 You know how some women just "seem" like executives? There is something about the way they carry themselves, speak and interact with others.
A recent survey by Sally Williamson and Associates showed that, of the nearly 400 executives and CEO's surveyed, 89% felt that "presence" helped them get ahead.
The company defines Executive Presence as: "the confidence to express your ideas with conviction and the ability and desire to engage and influence others in the process."
Business 2 Community explores the results of this survey in their article, What is Executive Presence?, and the surprising, as well as validating, things about the insights offered.
What do you think creates executive presence? Do you think it's important?