Each week, we feature a fantastic new woman we think you should know. Some of these women are clients, some are friends, some are women we've only just met. But they all have this in common: they are dynamic, interesting gals who have agreed to share with us their insights and secrets to success.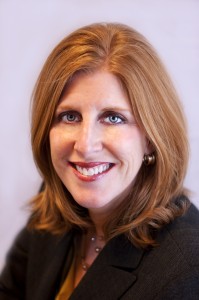 Belinda Sherman
My Current Job/Company:
Director of Strategy and Execution, Huntington, Wealth Division
My Birthdate:
5-14-1969
My Work:
I direct the sales strategy and execution tactics of Huntington's wealth division.
My Passion:
My family and my career.
My Family:
Joseph (Supportive Husband), Madelyn (Beautiful Daughter- 4), Alexander (Amazing Son – 4)
My Heroes:
My father.
My Escape:
A great song, a mystery novel … or a family beach vacation.
My Pet Peeve:
Closed mindedness
My Indulgence:
Red wine and pizza.
My Roots:
I grew up in Cincinnati, Ohio with a happy and humble family.
My Future:
Very Bright!
My Love:
Listening to my children giggle or having them run and tackle me when I come home from work.
My Movie:
Always
My Quote on Life:
"Peace…It does not mean to be in a place where there is no noise, trouble or hard work. It means to be in the midst of those things and still be calm in your heart." (Unknown)
My Accessories:
Great shoes.
My Advice to Young Women:
You can do anything you set your mind to regardless of your position in life. Even in times of great trouble, all can change with a choice.
How I Balance it All……………
Not well enough. It is difficult to be an interactive Mom and have a demanding career. I do not ever feel like I am good enough at either. However, I desperately want both, so I will continue to try to figure it out.