Each week, we feature a fantastic new woman we think you should know. Some of these women are clients, some are friends, some are women we've only just met. But they all have this in common: they are dynamic, interesting gals who have agreed to share with us their insights and secrets to success.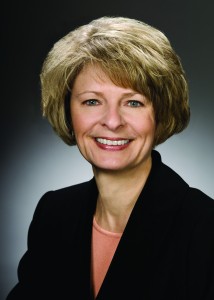 Cindy Powell
My Current Job/Company: Chief Risk Officer, State Auto Insurance Companies
My Birthdate: 7.7.60
My Work: Oversee our company's approach to identifying, assessing and managing our risk profile. Responsible for innovation and change management as we execute our business strategies.
My Passion: My family and my career.
My Family: I am truly blessed! Bob (supportive husband, best friend and personal cook), Kathryn (29), Kristin (27), Jason (son-in-law, husband of Kristin). Kathryn and Kristin inherited their father's beautiful sea blue eyes and kind loving disposition. My family's "behind the scenes" system of support and sacrifice has been critical to enable my career. For their unconditional love and continual support I am thankful.
My Hero: My mom. At 84, while her body gives her fits, she holds tight to her sharp wit, positive outlook, loving personality, artistic eye, culinary gift, constant giving of herself and during these difficult economic times, continues to be an example to her kids and grandkids on how to live modestly and still enjoy life to the fullest.
My Escape: Playing golf with Bob – just the two of us
My Pet Peeve: Selfishness
My Indulgence: Yoga and dark chocolate
My Roots: Cleveland, Ohio. Big family who lived for Mom's Saturday baking days and Sunday afternoon dinners – and… the Cleveland Browns!
My Future: Someplace relaxing and peaceful with Bob
My Love: Friday night – date night
My Movie: "Rudy" (individual perseverance) and "Remember the Titans" (team perseverance)
My Quote on Life: "Remember always that you not only have the right to be an individual, you have an obligation to be one." -Eleanor Roosevelt
My Accessory: My wedding band
My Advice to Young Women: Stuff will always happen and try to get in the way, so do your best to keep your focus on what you value the most and make it your #1 priority. You will never have regrets.
How I Balance it All……………
One ball at a time (and only with frequent reminders from my husband).