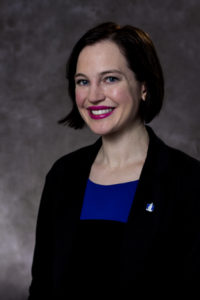 Here at Executive Elements, we like to feature fantastic women we think you should know. Some of these women are clients, some are friends, some are women we've only just met. But they all have this in common: they are dynamic, interesting women who have agreed to share with us their insights and secrets to success.
My Name:
Emily Walkowiak
My Current Job/Company:
Senior Consultant, Financial Services Marketing /Nationwide
My Birthday:
02.15.83
My Work:
I am a strategy leader in Annuity Marketing. I build targeted acquisition strategies to generate qualified leads for sales. I develop advertising and content marketing to drive brand awareness and consideration with advisers.
My Passion:
Strong relationships with God, family, and friends. I'm energized when I am a positive force in the lives of others.
My Family:
Loving parents, Sue and Dennis and two "stair-step" siblings who are also my close friends, Liz and Pete.
My Hero or Heroes:
My Grandpa Leon (Courageous Polish WWII hero and a self-made man). I miss him very much.
My Escape:
Lake Michigan in late summer.
My Pet Peeve:
Tailgaters on the road.
My Indulgence:
Ice cream, especially salty caramel.
My Roots:
I grew up a "Ford brat" in metro Detroit, the middle child in a close-knit, faith-filled, Polish family. My parents taught us to work hard, be generous and follow the Golden Rule.
My Future:
I'm still writing my story today, with an open heart and mind.
My Favorite Quote:
"People will forget what you said, people will forget what you did, but people will never forget how you made them feel." – Maya Angelou
My Accessory:
Bold lipstick.
My advice to Young Women:
Get comfortable being uncomfortable. It's better to take on "scary" challenges and learn from them than sit comfortably on the sidelines. Don't be afraid to ask for help.
How I Balance it All:
I tune in to what my body, mind, and spirit needs to keep my energy in balance and make time for those things. I have a strong support system that provides perspective. Online subscription services like Stitch Fix (fashion) and Blue Apron (cooking) help too!