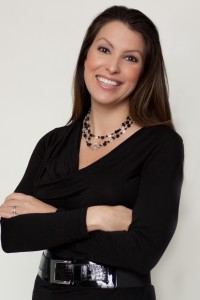 Here at Executive Elements, we like to feature fantastic women we think you should know. Some of these women are clients, some are friends, some are women we've only just met. But they all have this in common: they are dynamic, interesting gals who have agreed to share with us their insights and secrets to success.
JJ DiGeronimo
My Current Job/Company:
President of Purposeful Woman and Tech Savvy Women
My Birthdate:
January 29, 1973
My Work:
I am a motivational speaker, author, entrepreneur and advocate for women. I provide Proven and Practical Leadership Strategies for High Impact Women to effectively prioritize, align and achieve their individualized goals. I have authored the highly sought-after books for women, "The Working Woman's GPS," and "Before You Say Yes" (e-book). I have also co-authored, "The Confident Woman, Tapping into Your Inner Power." I participate in events globally for women leaders, women in technology, women entrepreneurs and young women in Science Technology Engineering and Math (S.T.E.M.).
My Passion:
My family, faith, friends and life's work.
My Family:
Rob (Life Partner and Husband), two beautiful, kind and purposeful children and my dog.

My Heroes:
The women before me that have endured scrutiny, pain, separation and sometimes torture to grant women additional rights. I am very grateful for their tenacity, sacrifices and passion to empower and elevate women. There is still so much to do for women's rights globally and I plan to contribute often in my lifetime.
My Escape:
Being by a body of water, starting a new book, walking in nature and taking catnaps.
My Pet Peeve:
People who do not take responsibilities for their choices, people who complain and blame others but do not want to work to alter their outcome, and oh, long lines.
My Indulgence:
Learning something new, traveling, wine during the day, girl's nights and new business ventures.
My Roots:
Honesty, giving it 110%, the right attitude, the confidence to go after your dreams and love.
My Future:
Magical

My Love:
When we are all together creating memories, donating our time to help others, seeing the world through our children's eyes and feeling the touch of a spiritual connection
My Movie:
There are many movies I could name but in the spirit of empowering women, I would select "The Notebook" (2004). In the movie, Ryan Gosling buys Rachel McAdams a gift of painting supplies. He suggests through the gift that he wants her to pursue her dreams of painting and arranges a beautiful area in his house for her. There, of course, is so much more needed in a marriage than one gift but, I like what the gift infers – his commitment to her goals and dreams.
Marriage, to me and many successful women who I have interviewed, is about a mutually beneficial partnership that elevates both people to live their best and most purposeful life.
For many women, who they marry will determine their destination regardless of the rights available to them. Every chance I get, I share the truth about marriage to young women in an effort to set expectations that will help guide them toward a loving and mutually beneficial partnership.
My Quote on Life:
Gosh, so many to pick from, here are a few of my favorite quotes that guide me:
"You will face many defeats in your life but never let yourself be defeated." ~ Maya Angelou
"There is a special place in hell for women who don't help other women. ~Madeleine Albright
"Don't wait.The time will never be just right." ~ Napoleon Hill
My Accessory:
My phone.
My Advice to Young Women:
You can do anything you set your mind to. It comes down to your choices and who you surround yourself with. So, ladies choose wisely and do not compromise your dreams for someone else's goals.
How I Balance it All:
HA! Balance is tough to find for women juggling the average load (family, extended family, career, community). With many of life's demands, I have learned that I need to make selective choices each day that align to my goals and life objectives. This often requires me to say "no" to too many requests for my time. Through these sometime difficult choices, I've found personal strength, courage and determination. When I prioritize me first, I am a better mom, wife, entrepreneur and advocate. (More information about the Power of No can be found in the book, "The Confident Woman".)
You can find me at www.purposefulwoman.com
Facebook Fan Page: Purposeful Woman
LinkedIn: JJ DiGeronimo