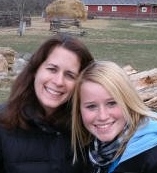 Here at Executive Elements, we like to feature fantastic women we think you should know. Some of these women are clients, some are friends, some are women we've only just met. But they all have this in common: they are dynamic, interesting gals who have agreed to share with us their insights and secrets to success.
Kathy Gatterdam

My Name:
Katherine (Kathy) Gatterdam
My Current Job/Company:
CEO, The Columbus Coal & Lime Co.
My Birthdate:
03.21.65….with my brother Erik
My Work:
I run a 125 year old family masonry supply business. We are all family here.
My Passion:
My family, my faith, Rotary Youth Exchange, the Builders Exchange, my community.
My Family:
Rich (Supportive Husband), Kate-18, Emily-17 (2 Amazing Daughters)

My Heroes:
My parents. (Diane and Larry Niermeyer) They are and were simply the BEST.
My Escape:
Chippawa Lodge, Canada……no TV, no cell service…just family.
My Pet Peeve:
Negative people and those who choose to scream instead of speak
My Indulgence:
Old family recipe….blueberry torte.
My Roots:
Started as a swimming instructor. I loved it, then had odd jobs through college. I worked at law firms in Law School and ended up in the family business after five years in the legal field.
My Future:
More time to truly use my talents.

My Love:
Seeing all those I love happy. It brings me great joy.
My Movie:
Too many to list! I love old black and whites….everything from Sargent York and To Catch a Thief…to Christmas in Connecticut
My Motto to Live:
Is it the Truth, Is it Fair, Will it build goodwill and better friendships…will it be beneficial to all concerned….

My Accessory:
Black hairband on my wrist. My hair goes up and down and sideways all day!

My Advice to Young Women:
Live your values and don't let others define you. Have great faith you are always loved no matter how you feel about yourself or your accomplishments.
How I Balance it All:
Often you need to make choices and say NO or not yet. Balance for me is understanding my commitments and trying very hard not to overload them. I am surrounded by a very strong family at home and work, however, a wrench is always thrown into the mix so I am learning to leave more space for the unexpected.