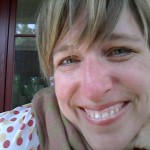 Understanding what makes dynamic female leaders tick is key to successfully recruiting – and retaining – them in your organization.
Each week, we feature a woman from our community to give a peek at the key areas – personal and professional – that motivate and drive these high performing executives. If you know someone who should be featured, contact us!
Kimberly Ratcliff
My Current Job/Company
Director, Communications/Battelle for Kids
My Birthdate
12/20/67
My Work
I provide strategic communications counsel to large urban school districts across the country.
My Passion
My family and friends, including the dog. The great outdoors.
My Family
Ben (husband), Katie (14), Joshua (10)
My Heroes
All of my dogs, present and past
My Escape
Anything outdoors, preferably in the mountains. National Parks at Teton, Glacier, Acadia and Bay of Fundy are favorite places.
My Pet Peeve
People who could care less. And people who don't think.
My Indulgence
Reese's Cups. Jeni's ice cream-Queen City Chocolate. Spicy Indian food.
My Roots
My family is from Southeast Ohio, on the border of Ross and Vinton Counties. This means that I'm used to being around some pretty compelling storytellers.
My Future
Gives me a chance to continue growing up, although I don't think I'll ever REALLY be a "grown-up!"
My Love
Being with my dog.
My Movie
Amelie. I love the characters, the part of Paris where it's set (Montmartre) and the vibrant colors of the costumes and scenery.
My Quote on Life
"Always do what you are afraid to do."
-Ralph Waldo Emerson
My Accessory
Earrings, long and dangly
My Advice to Young Women
Don't be afraid to take risks. Just make sure that you know yourself well, and surround yourself with people who love you and are comfortable questioning you so that you stay grounded along the way.
How I Balance it All
My life is like a game of whack-a-mole. One thing's in balance, and another thing is popping up. When I was in my 30s, it all felt pretty overwhelming, but I think that my 40s are teaching me to get used to it and just keep pushing forward. Being patient with myself is probably the most difficult lesson I've learned, but now that I can do it, I am much happier. It's okay to make mistakes as long as I can learn a lesson from the missed mark.