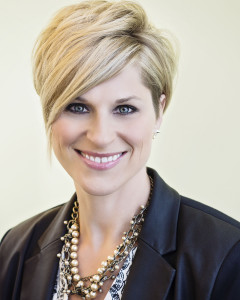 Here at Executive Elements, we like to introduce you to fantastic women we think you should know. Some of these women are clients, some are friends, some are women we've only just met. But they all have this in common: they are dynamic, interesting people who have agreed to share with us their insights and secrets to success.
My Name:
Megan Myers
My Current Job/Company:
For the past three and a half years, I was the Creative Director for Thirty-One Gifts, which gave me the amazing opportunity to build and lead a team of super talented and smart people. Just a few weeks ago, I stepped away from that role to spend some time rebalancing my life, adjusting my focus, and finding a "next" that ignites my passions and challenges me in new ways.
My Birthday:
10.23.76
My Work:
For a long time, I felt too defined by my professional work, so it's really interesting to answer this question at this point in my life and career. Quite simply, the work that I find most rewarding is creating an end-product that makes people happy and feel successful – whether it's a tangible product, an intangible mindset, or anything in between – and having a great time along the way. Work isn't nearly as good if there's no joy in the journey.
My Passion:
My family and wellness. I love CrossFit! I am passionate about feeling strong and energized. I am passionate about living a healthy life and being an example for others to do the same. Professionally, my passion is about rooting a good story in a sound purpose and connecting the dots.
My Family:
Jason, my awesome, handsome, and supportive husband of nearly 13 years; Laine, my sweetly neurotic, very spunky, and creative 10-year-old daughter; and Lincoln, my curious and kind 7-year-old son with a huge heart for animals. We are a unit. We pretty much do everything together. And we like to keep things simple. Sometimes, I just can't believe God blessed me with these people!
My Hero or Heroes:
The person I am today is largely because I had a mother and grandmother who showed me how to be a strong woman who is not afraid to speak up and make decisions, a dad who has still has a killer work ethic and who finds big joy in small things, and a grandfather who took risks and left people better for having known him. If people say any of these things about me someday, I will be honored.
My Escape:
Any beach. With an intelligently written, fictional book.
My Pet Peeve:
Complainers, naysayers, small-minded people…and overuse of ellipses.
My Indulgence:
Wine and almost anything chocolate. I recently found some Paleo chocolate that makes me feel less guilty. Haven't found that Paleo wine yet, though.
My Roots:
I'm a small town girl from Upper Sandusky, Ohio. I'm a farmer's daughter, and my grandparents were in the restaurant business. So my childhood was part 4-H and picking up sticks in the yard with my brothers, and part learning how to kill with kindness in the customer service arena. It was Football Friday nights, sleepovers, riding my bike to the pool, having lots of animals around, and feeling safe and happy. It was really an ideal community in which to grow up.
My Future:
I very much tend to roll with it, but I know it will be an amazing adventure filled with a lot of laughter. And my favorite people.
My Favorite Quote:
"To live a creative life, we must lose our fear of being wrong." – Joseph Chilton Pearce

My Accessory:
A necklace that I never take off. It reads "Better than yesterday," and it's a reminder that a simple goal that can lead to great change. And my Ray-Ban aviator glasses.