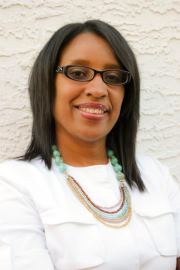 Mia Hairston
My Current Job/Company:
Senior Human Resource Consultant
My Birthdate:
12-18-1968
My Work:
In my current role I develop HR strategies to enable the continued career growth and progression of Sales Associates. Empowering associates to take ownership for their own careers is rewarding and satisfying.
My Passion:
My family, my church, my friends.
My Family:
Kevin (Husband), Kennedy(11), Tyler (dog)
My Hero:
My husband, Dr. Kevin Hairston, wonderful coach and role model.
My Escape:
Any beach with my husband and child, taking along a good read.
My Pet Peeve:
Critical and judgmental people.
My Indulgence:
Nachos and anything salty!
My Roots:
Diverse. Happy. Experiential. Surrounded by good friends and family.
My Future:
Full of life and service! Hopeful.
My Love:
Spending time doing a whole lot of "nothing" with my family. Creating funny moments. Self evaluation and learning.
My Movie:
Daddy's Girls. Love the love shown from a father to a daughter.
My Quote on Life:
"In Him I Move and Breathe and Have my Being"
My Accessory:
Earrings
My Advice to Young Women:
Have goals and visions for your future. Pursue and be all that you can be while you have a chance. Learn and grow everyday.
How I Balance it All:
Some days better than others….I cannot survive without my CROCKPOT and CALENDAR. My husband is in it to win it with my daughter. We partner and bounce things off of each other every day. Prayer, Prayer and much Prayer! Staying positive and keeping progressive-minded people around me is a must. When planning my calendar I look at the strategic investments in the people around me that need to be made and adjust to reflect those priorities. When all else fails, know that God is right by my side.