Each week, we feature a fantastic new woman we think you should know. Some of these women are clients, some are friends, some are women we've only just met. But they all have this in common: they are dynamic, interesting gals who have agreed to share with us their insights and secrets to success.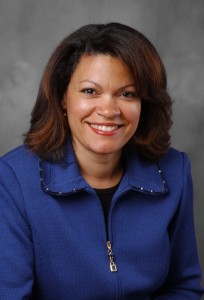 Pamela Edwards
My Current Job/Company: Executive VP/CFO Victoria's Secret Stores
My Birthdate: 10-23-62 (yes the big 5-0 is this year!)
My Work: I lead a 60+ finance department for World's Best Brand for Women –Victoria's Secret. Includes Strategic financial leadership, budgeting, forecasting, technology and inventory planning
My Passions: God, my husband and family (5 children, 2 dogs), my church, my community, and my job!
My Family: LeRoy (Husband), Greg (32), Diamond (23), Tayler (21), Garrett (18), Christian (11). Samson and Delilah (1 year old pups!)
My Heroes:My parents and in-laws, my pastor (Bishop Washington), and my husband.
My Escape: Cruising. We just came back from a 10 day cruise to Panama Canal. Best vacation so far!
My Pet Peeve: Negativity, Complainers vs doers.
My Indulgence: French Fries and Potato chips. Turtle candies
My Roots: Humble, value oriented. God at the center of all
My Future: Retirement with my husband (10 years from now!) Want to do community work and travel after that.
My Love: Laughing and spending time with my husband LeRoy who is the love of my life. My children and continuing to watch them grow into adulthood.
My Movie: "Phenomenon" – a great love story. "Imitation of Life" – Love yourself as you are and love those around you each and every day. Life can be too short. "o Brother where Art thou" – so goofy it makes me laugh.
My Quote on Life: "Love is patient, love is kind. It does not envy, it does not boast, it is not proud It does not dishonor others, it is not self-seeking it is not easily angered, it keeps no record of wrongs, Love does not delight in evil but rejoices with the truth. It always protects, always trusts, always hopes, always perseveres," 1 Corinthians 13:4-8
My Accessory: My cross necklace that I wear every day.
My Advice to Young Women: Believe in yourself and forever have confidence.
How I Balance it All: We are empty nesters now, yet there never seems to be enough time to do everything we want to! However, it is keeping in mind what is most important, our values and ensuring that we check ourselves each and every day to make sure we are living our life to the fullest.