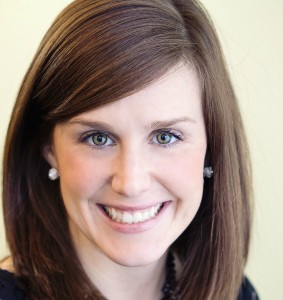 Here at Executive Elements, we like to introduce you to fantastic women we think you should know. Some of these women are clients, some are friends, some are women we've only just met. But they all have this in common: they are dynamic, interesting people who have agreed to share with us their insights and secrets to success.
Rebecca Wiggins
My Current Job/Company:
Non-profit Executive Director for AFCPE (Association for Financial Counseling and Planning Education)
My Birthdate:
04.27.1980
My Work:
I oversee the operational and strategic management of the organization. I am deeply committed to AFCPE's mission to improve the economic wellbeing of individuals and families worldwide. We do that by training, certifying and supporting financial counselors and educators.
My Passion:
Faith, Family, Friendship, Social justice.
My Family:
Mark (Husband), Owen (6), Nora (3 ½ going on 15), Oscar (mini-schnauzer).
My Heroes:
My parents and sisters. They keep me grounded and encourage me to grow. They have instilled in me a passion for good music and for making this world a better place.
My Escape:
The mountains, wine country, a good book.
My Pet Peeve:
Narrow-mindedness.
My Indulgence:
Red wine, dark chocolate.
My Roots:
Born in Harrisburg and raised in Pittsburgh—hardworking, family-oriented, lots of love.
My Future:
Open, optimistic, growth.
My Love:
Good people, good conversation, good music, good adventure (and good wine).
My Movie:
When Harry Met Sally, "when you know you want to spend the rest of your life with someone, you want the rest of your life to start as soon as possible."
My Quote on Life:
"To love ourselves and support each other in the process of becoming real is perhaps the greatest single act of daring greatly." –Brene Brown and "Darkness cannot drive out darkness; only light can do that. Hate cannot drive out hate; only love can do that." –Martin Luther King, Jr.
My Accessory:
Earrings and a wine glass.
My Advice to Young Women:
Know what you stand for and believe in. Surround yourself with authentic, positive, encouraging people. Embrace the windy road–-sometimes things don't work out how we planned, but we end up exactly where we need to be!
How I Balance it All:
With a lot of help! I am so fortunate to have a supportive partner, amazing caregiver for our kids and wonderful family and friends. The myth is not that we can't have it all and love our messy lives—it is that we can do it all on our own.