Here at Executive Elements, we like to feature fantastic women we think you should know. Some of these women are clients, some are friends, some are women we've only just met. But they all have this in common: they are dynamic, interesting gals who have agreed to share with us their insights and secrets to success.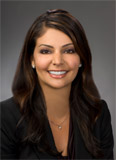 Stephanie R. Hanna
My Current Job/Company:
Attorney/Carlile Patchen & Murphy LLP
My Birthdate:
04.28.83
My Work:
I am a member of our firm's litigation practice group, focusing on commercial litigation, business conflict mediation, and administrative proceedings. I try to use my background with the court to bring a unique perspective to help clients avoid the common pitfalls of litigation.
My Passion:
Giving back, supporting others, and promoting health and well-being.
My Family:
My parents (hard-working and consistent), my sister (rock star and future doctor), Bugsy (6-year-old dog/human), AG (super supportive partner-in-crime), my work family, my YWCA family, my Children's Hunger Alliance family, my Columbus Bar Association family, and my friends that are like family. It truly takes a village.
My Heroes:
There are so many with situations tougher than I will ever know. Having worked in the public service sector, it is very easy to see the real heroes all around us. Those who have to work much harder to do the things many of us take for granted – get to work, put food on the table, survive month to month.
My Escape:
The gym (lifting heavy things makes me happy) and taking a true electronics time-out.
My Pet Peeve:
Not putting yourself in someone else's shoes before making a judgement.

My Indulgence:
Dark chocolate (the real stuff, 85%+).
My Roots:
Happy, simple, giving.
My Future:
Exciting.
My Quote on Life:
"There is a special place in hell for women who don't help other women."
-Madeleine Albright
My Accessory:
A smile, a positive attitude, and trying to find the good in every person and situation.
My Advice to Young Women:
Be kind, be patient, and have a little confidence.

How I Balance it All:
First, balance is overrated and a misnomer. Second, balance is defined differently for each of us and there is no perfect fit. I try to stay true to what is most important to me and let the rest fall where it may. Recognizing that I can't be everything to everyone at all times is very freeing.