Here at Executive Elements, we like to feature fantastic women we think you should know. Some of these women are clients, some are friends, some are women we've only just met. But they all have this in common: they are dynamic, interesting gals who have agreed to share with us their insights and secrets to success.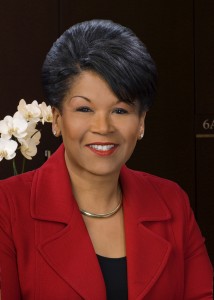 Yvette McGee Brown
My Current Job/Company:
Partner, Jones Day Law Firm
My Birthdate:
07/01/60
My Work:
I do business and tort litigation, handle appeals and a little corporate governance.
My Passion:
My family and my community. I think Columbus is a special place. I like to make a difference for the generations that follow us. I am really committed to helping women maximize their potential and to having the courage to live their dreams.
My Family:
A wonderful husband, Tony; 3 children and 2 grandchildren – Belinda and her husband Marcus – Sophia and Joshua; Laura, and David;
My Heroes:
My Grandmother and my mom. Both women taught me to be strong and work hard. They were exceptional role models with challenging lives. They didn't have the opportunity to "Lean in" or have "work/life balance." They did what was necessary to support their families and never gave up hope that their children's lives would be better than their own.
My Escape:
Reading, travel and spending time with friends
My Pet Peeve:
People who are blessed and complain.
My Indulgence:
Wine.
My Roots:
Humble. Filled with love. Happiness
My Future:
Busy and Bright. Challenging, engaging
My Quote on Life:
"Life is 90% attitude and 10% aptitude." Whether you think you can or think you can't, you're probably right.
My Accessory:
My smile – it's always with me.
My Advice to Young Women:
Quit trying to be perfect, there is no such thing. Find something you love and do it well. Your kids will be fine if you don't observe every waking moment of their life. Give them the gift of independence.
How I Balance it All:
I have a great husband who picks up a lot of slack. And what I can't/won't do, I hire out. I manage my time and decide what is important to do. And most importantly, I don't feel guilty about an empty fridge (my kids prefer take out) or an occasional night out with the girls. A happy me is a happy home.