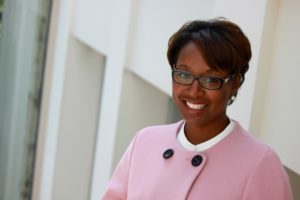 Here at Executive Elements, we like to feature fantastic women we think you should know. Some of these women are clients, some are friends, some are women we've only just met. But they all have this in common: they are dynamic, interesting women who have agreed to share with us their insights and secrets to success.
My Name:
Evelyn Sullen Smith
My Current Job/Company:
Attorney, Perez & Morris LLC
My Work:
I'm excited about my return to private practice! My practice focuses on transportation and logistics and business transactions.
My Passion:
Writing and business development.
My Family:
My husband, Jason, daughters Mikaili and Tori, and my Detroit crew!
My Hero or Heroes:
My mother, Hon. Denise Page Hood, Donna James, and Shonda Rhimes.
My Escape:
The hours between 5 am – 7 am (pray, workout, read), traveling, and family gatherings.
My Pet Peeve:
"Bucket Dippers"
My Indulgence:
Wine and relaxation on my patio.
My Roots:
My parents moved from Brighton, Alabama to Detroit, Michigan on the day the riots in 1967 began. Not long after the unrest, I was born!
My Future:
My hands and my heart are postured to expect God's blessings in all aspects of my life.
My Favorite Quote:
Never underestimate the power of dreams and influence of the human spirit. We are all the same in this notion: the potential for greatness lives within each of us.
~Wilma Rudolph
My Accessory:
Inner peace, and my Shinola watch (made in Detroit).
My advice to Young Women:
All setbacks are finite, both in duration and scope, so keep going!
How I Balance it All:
Prayer, my supportive husband, and my daughters' energy and laughter inspire me in all that I do.